How Much We Spent in Scotland
This summer we planned to explore Sri Lanka. Suddenly the prices went up and we gave up on that idea. As soon as we booked some low-fare tickets to Edinburgh, Turkish Airlines started having a sale for Asian destinations. Since Scotland has been on Jure's list for the longest time and I couldn't really remember much for my first trip there (don't blame me – the last Harry Potter book was published just a day before we departed), it seemed like the right choice.
Because we were traveling during the high-season, the prices are not as low as we would have wanted. This is why we tried to do our best to keep the costs down by occasionally using couchsurfing and also cooking our own food.
Below you can find information on how much the whole trip (10 full days) cost us. Please note that I first write down the price we paid together and then calculate how much it was per person.
Car and transport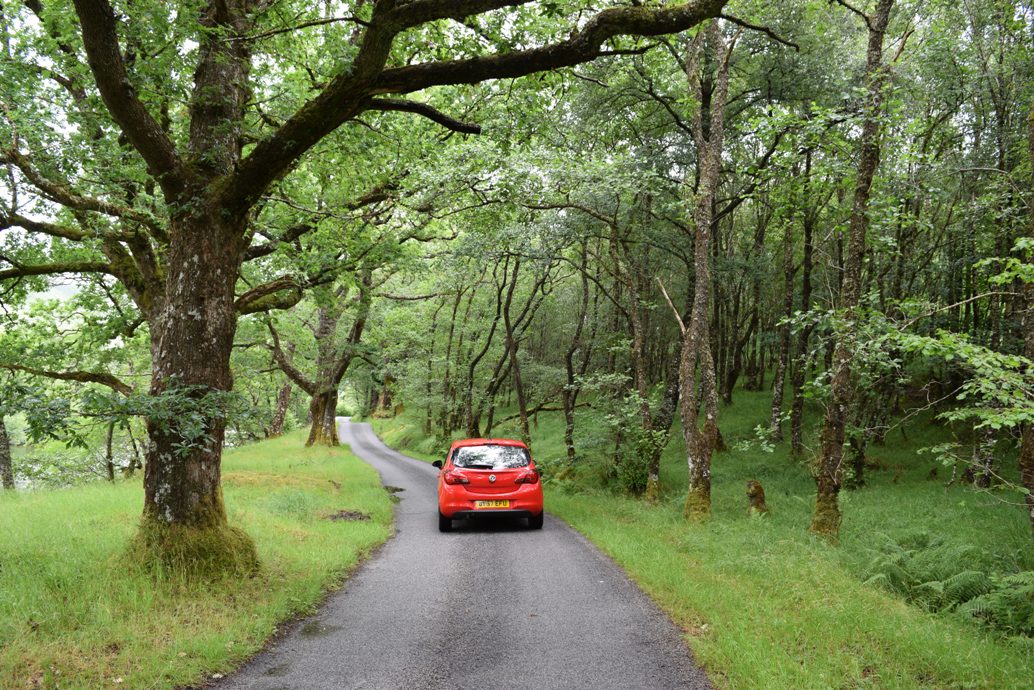 Rent for 8 days (full-insurance included): €201.00
Bus from and to the airport: £15 (€16.85)
Fuel: £122.79 (€137.94)
Parking: £2.20 (€2.47)

Expenses per person: €179.13

Car expenses were quite low this time. We rented our car on the second day in the city centre (10 minutes away from where we were staying) and returned it 8 days later at the same spot. Altogether we made around 1500 km. Parking spaces are mostly free in Scotland. The only time we had to pay for one was in St. Andrews.
Entrances

Urquhart Castle: £18.00 (€20.22)
Loch Ness Cruise: £36.00 (€40.44)
St. Andrews Castle & Catedral: £18.00 (€20.22)
Edinburgh Castle: £34 (€38.19)

Expenses per person: €59.54

Most of the activities we did were free. Urquhart Castle was a spontaneous decision right on spot. We stopped to eat some lunch and maybe also take a photo or two of the castle. We ended up spending over one hour there. Loch Ness Cruise (we booked this one) is something we would usually skip, but our host at the Isle of Skye could not stop talking about how great it is. We didn't have anything planned for that day and therefore decided to try it out. It was fun. St. Andrews Castle and Cathedral left me in awe the last time I was in Scotland. I love that city, it's amazing! It was my wish to see both and I do not regret the choice. The free audio tour was a really lovely addition too. Edinburgh Castle is probably the only one I regret visiting (I believe Jure would disagree here). Don't get me wrong – the castle is beautiful, but walking around in July at 2pm is a real torture. The heat I could handle, however it's packed with tourists. There are some spots where you can temporarily escape the crowds, but overall I was a bit disappointed. I was not happy with the guided tour either (the guide made it truly boring). I wish I could re-visit at any other season (winter or autumn must be amazing!).
Food

Groceries: £108.13 (€121.47)
Dining out: £72.43 (€81.36)
Local snacks: £3.00 (€3.37)

Expenses per person:: €103.10

We were cooking at most of our accommodations, usually having some vegetables, rice or pasta and some protein. During the day we were snacking on fruit or pastries. In Fort-William we once go out to eat fish & chips. In Edinburgh we met with a new friend on both nights and went to eat at Wetherspoon. While out, we also enjoyed some beers. We were also eating out during the day. For lunch we usually either stopped at my all-time-favourite Pret a Manger to grab their fresh yogurts with granola or sandwiches or we visited Oink. As you can possibly tell, we were never hungry.
Accomodation (11 nights)

Edinburgh (1 night – booking.com): £41.80 (€47)
Crianlarich (1 night – booking.com): £65 (€73)
Fort William (2 nights – couchsurfing): free
Isle of Skye (3 nights – couchsurfing): free
Inverness (1 night – airbnb): €54.22
Blairgowrie (1 night – airbnb): €42.04
Edinburgh (2 nights – booking.com): £83.60 (€94)

Expenses per person: €155.13

Our accommodation was a mix of college dorms (Edinburgh), family-run guesthouses (Crianlarich, Blairgowrie) and private apartments kind strangers shared with us (Fort William, Isle of Skye, Inverness). We made some new friends and overall truly enjoyed a bit of everything. My personal favourite was Inverardran in Crianlarich. I cannot praise this place enough. We came to a cozy room with the comfiest bed and the most beautiful view. When it got cold, we had some nice hot chocolate while eating the most amazing cookies and then in the morning, the set up the most delicious breakfast for us. I could easily spend a week at this place alone.
Altogether per person: €496.90
What is not included:
– airplaine tickets
– transfer to/from the airport (Ljubljana-Venice)
– gifts for friends and family
– second-hand books
We spent the most in Edinburgh, where we could easily just use our kitchen and save some more. On the other hand, we were mostly cooking on all other days, so it was nice to spend the last two eating out. On entrances we could save by using an Explorer Pass. Lastly, accommodation and car rent would both be cheaper in any low-season month. Traveling in July has its cons… All in all, I think we did pretty well by keeping the costs as low as we could without obsessing over them. We enjoyed the trip, but we will do our best to avoid the summer months from now on.
No time now? Pin it for later.