Morocco: A Guide to Glamping in the Sahara Desert
If you asked me to give you some good reasons for visiting Morocco as soon as possible, spending time in the desert and experiencing Berber tradition would be on the top of my list. For us, that was the highlight of our trip. I still smile at the thought of all the memories we made there and would gladly return in a heartbeat. To make your experience just as amazing, I wrote down a guide to glamping in Erg Chebbi desert (also known as Merzouga desert).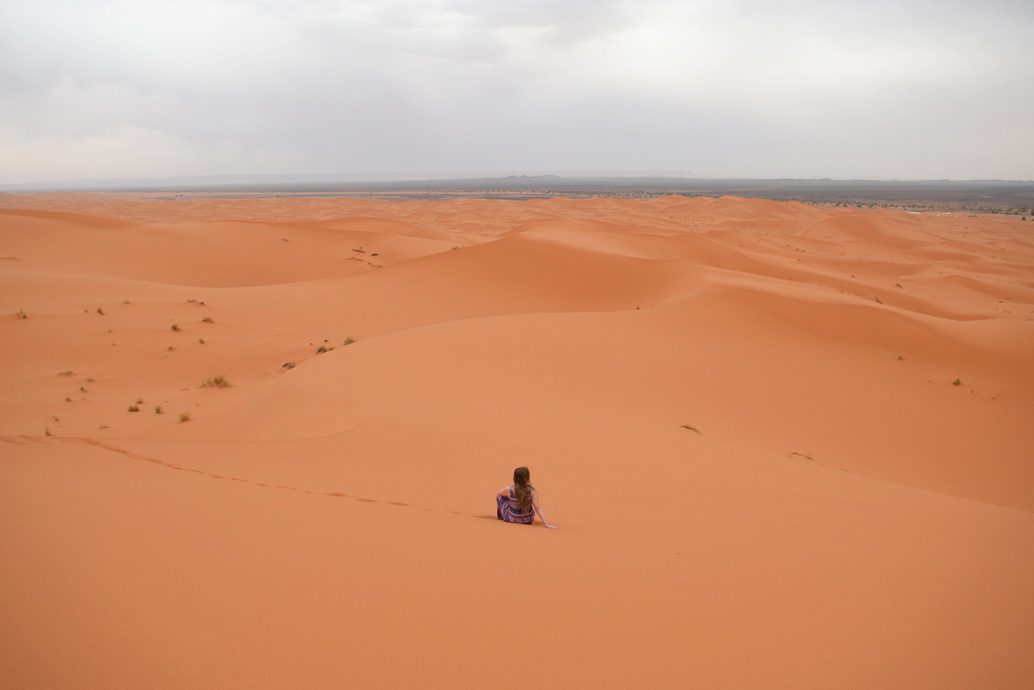 Getting there
We got there by car, but there are plenty of other options if you do not wish to do that. You could either hire a driver, take a bus (check Supratours for more information) or do a tour.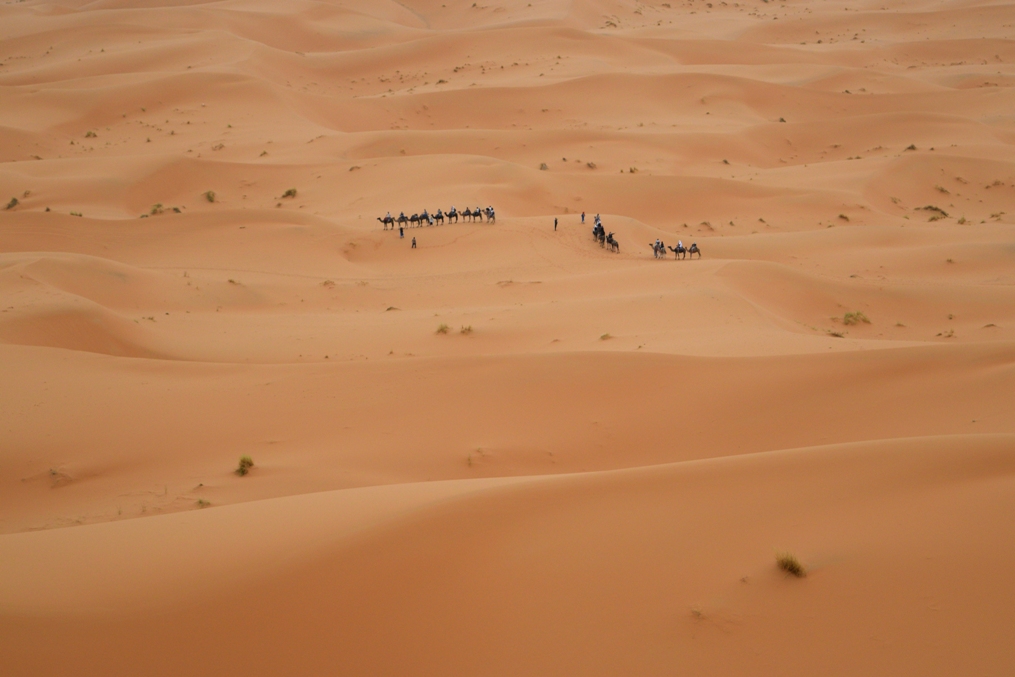 If you are driving from Fes to Marrakech or the other way around, I recommend you do not rush. Morocco is huge and while you may not realize that when looking at the map, it's quite a drive. The roads are in great condition and we have always felt very safe, though. We split the route into more parts. On day 1 of our trip to the desert, we did a guided tour in Fez, stocked up on snacks and water, and then drove to Zaida (Midelt would be another great stop). On day 2 we ate a very filling breakfast, walk around the town of Zaida and then headed to Merzouga. We reached the village just before the sunset (around 4 pm). Two days later, after leaving the desert, the road led us to Dades Valley, where we were staying in one of the most beautiful riads. Our following night was spent in Aït Benhaddou (Ouarzazate is a good alternative) and the night after that in Marrakech. Both parts could be done is a day, but I do not recommend that. You would have to spend up to 10 hours of driving, no stops included. Splitting the trip into smaller parts will allow you to relax at the end of the day and get to know the Morrocan culture.
How long to stay
If you can, book at least 2 nights. During my research, I noticed the majority of tours (if not all) leave for the desert before the sunset and bring you back to the village after the sunrise. Because we wanted to spend more than just a little over 12 hours on the dunes, we booked two nights. It was so much fun! Our only regret is we didn't stay any longer.
What tour to choose
Booking through an agency: In big cities, such as Marrakech and Fez, there are many agencies that organize these desert trips. The length of these excursions can be 3, 4 or even more days.
Booking on the spot: There are so many camps in the desert you will have no trouble finding one. This will also be the cheapest option.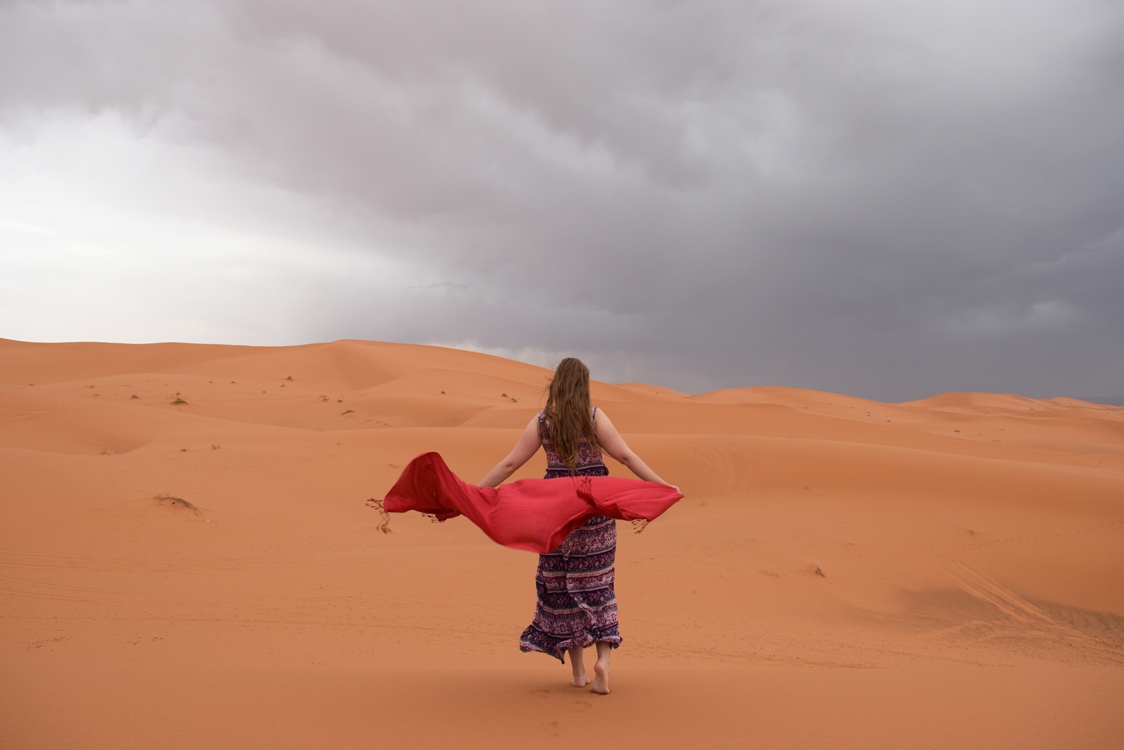 Booking in advance: This way, you can have a guarantee that you will be able to do it on desired dates. We choose to reserve our spots in this camp through airbnb two months in advance. Mohammed and his extended family were the greatest hosts that will really make your stay unforgettable (note: this is NOT sponsored, we genuinely loved them).

Get $40 off your first airbnb adventure.
What was included in our 2-nights package
Upon arrival to Mohammed's home, we were sat in a living room and welcomed with a cup of tea. Until the other couple – also being hosted by Mohammed – arrived, we were mostly being left alone, free to do anything, every now and then being approached by one of the Berbers.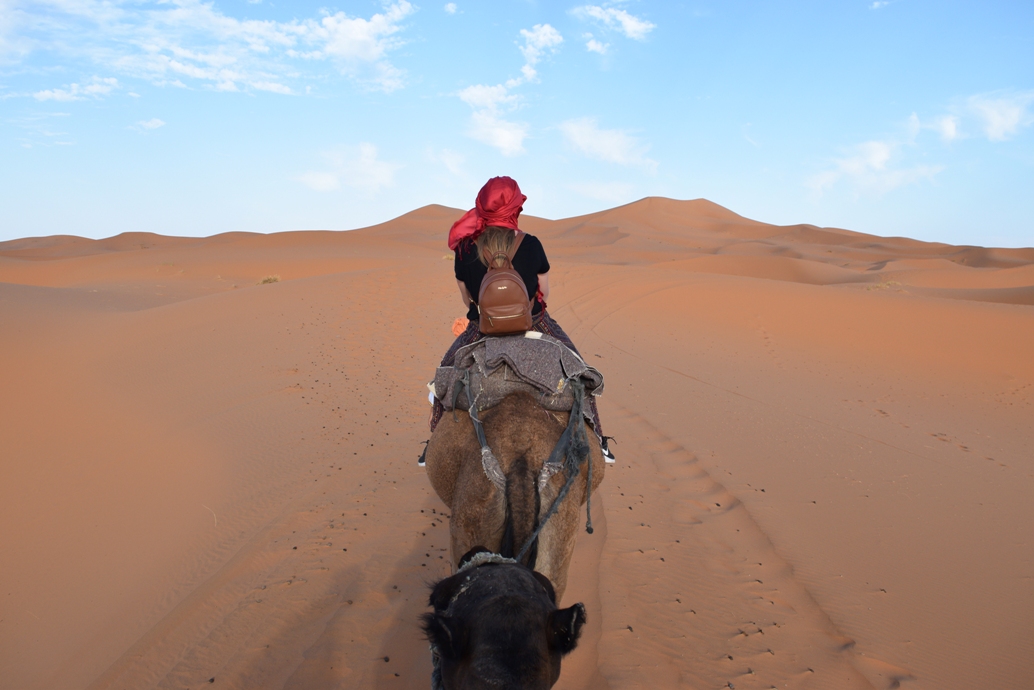 As soon as our group was complete, we were guided to the desert. Mohammed has worked in tourism for years and knew several languages – including Slovene!

During our walk, he kept randomly saying "Gremo, gremo!" (meaning let's go, let's go), which was absolutely hilarious. The camel ride took around 20 minutes. We were led to a spacious private tent and encouraged to use the sandboard before the sun goes down.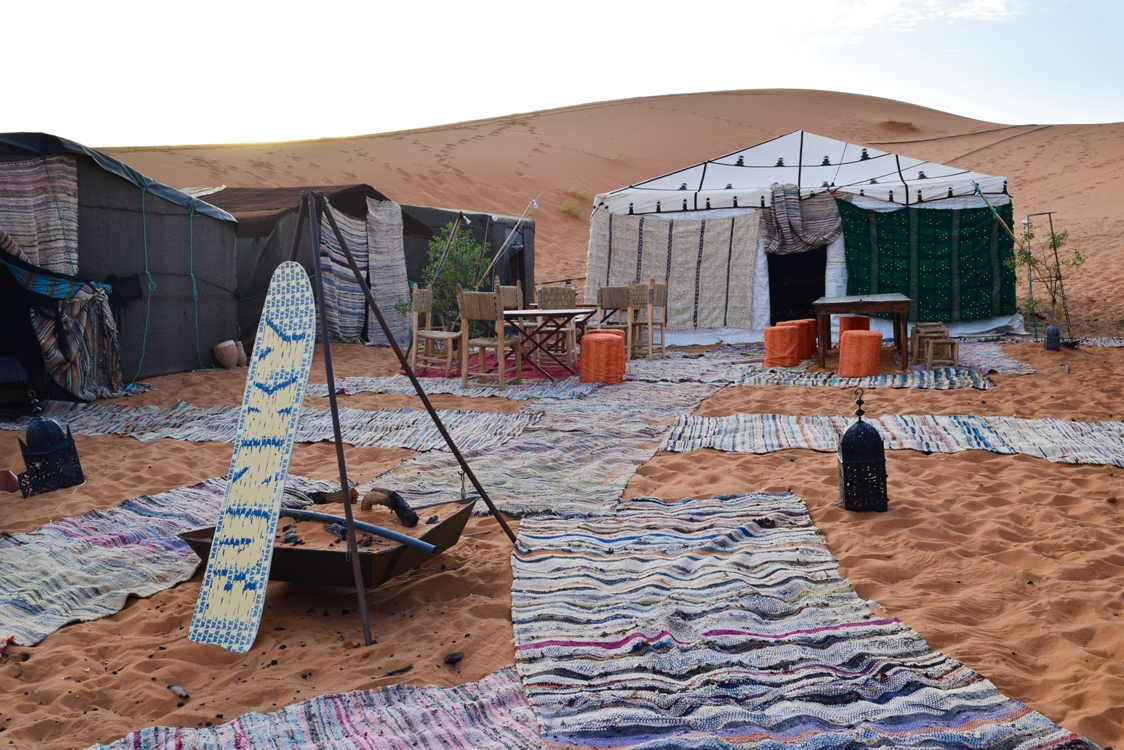 After watching the sunset, we did some more of sandboarding and then returned to the camp for dinner. We were served tagine with chicken and slowly after a lovely party with some live music followed. When we were all tired, we climbed to the highest dune nearby and did some stargazing.

The next day they woke us up yelling "sun-a-rise, sun-a-rise!". We all gathered and watched the sun rising (as dreamy as that sounds – it was cloudy so not much could be seen). Then we had breakfast at the so called "luxury camp" (you can see it all over IG).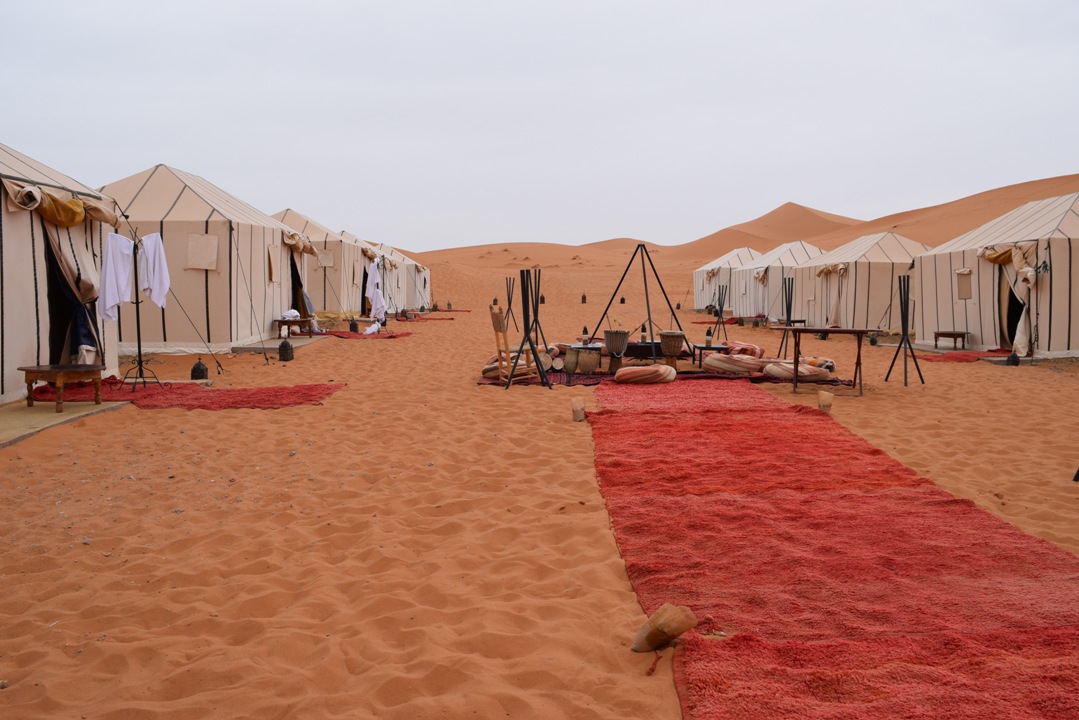 After some rest (aka sandboarding), we were taken on a trip to the stone desert. Once back, we got our lunch (Berber omlette – it was fantastic!) and again, had some free time. Dinner was served when the sun went down.
What to pack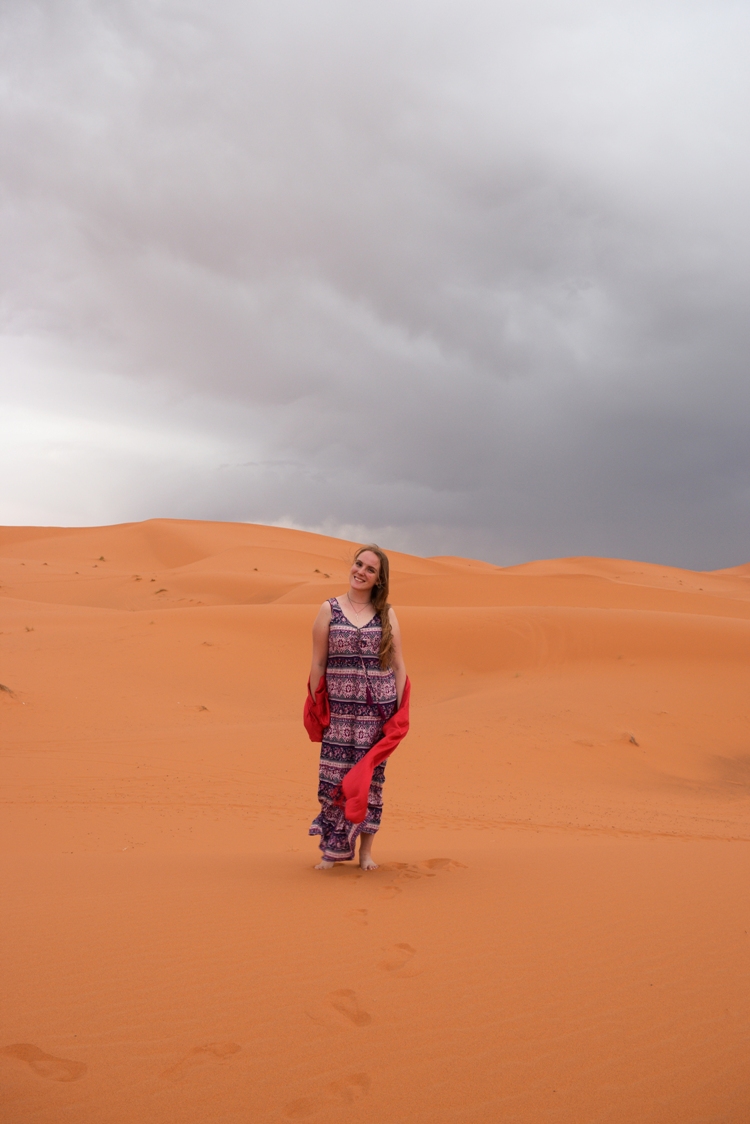 When we got to the meeting point, we had no idea what to expect. Please note that different camps have different rules but try to learn more before you go. Check with the guide personally, not with somebody else related to them (they do not know your circumstances). Lastly, be persistent, although everyone will tell you to take it easy and just relax. Demand your answer, no matter what they say. With that being said, here is what you are definitely going to need:

– suncreen,
– sunglasses,
– sesh (turban cloth; you can get it in a city or in Merzouga),
– snacks,
– sandals and trainers,
– water,
– hoodie/other layers,
– underwear,
– pyjamas,
– any other clothes you may need,
– camera, tripod, extra batteries,
– chargers.

I spent 99 % of the time being barefoot but felt better having shoes on when riding a camel and when on the day trip.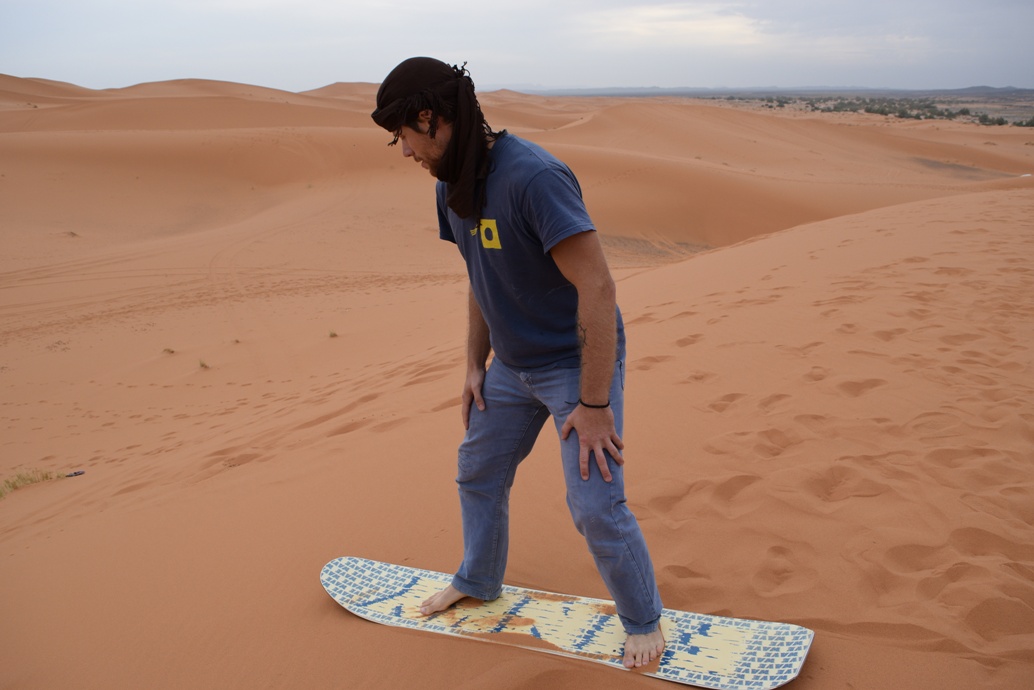 Sunscreen and sunglasses were not needed in our case because it was cloudy and rainy. As you might have guessed, that is usually not the case. Our sesh was bought in Fes for 100 MAD (around €10), which was a really good deal.
Free time
The schedule usually goes something like this:

sunset: arrival to the camp,
darkness: dinner + live music,
sunrise: going back to Merzouga and breakfast there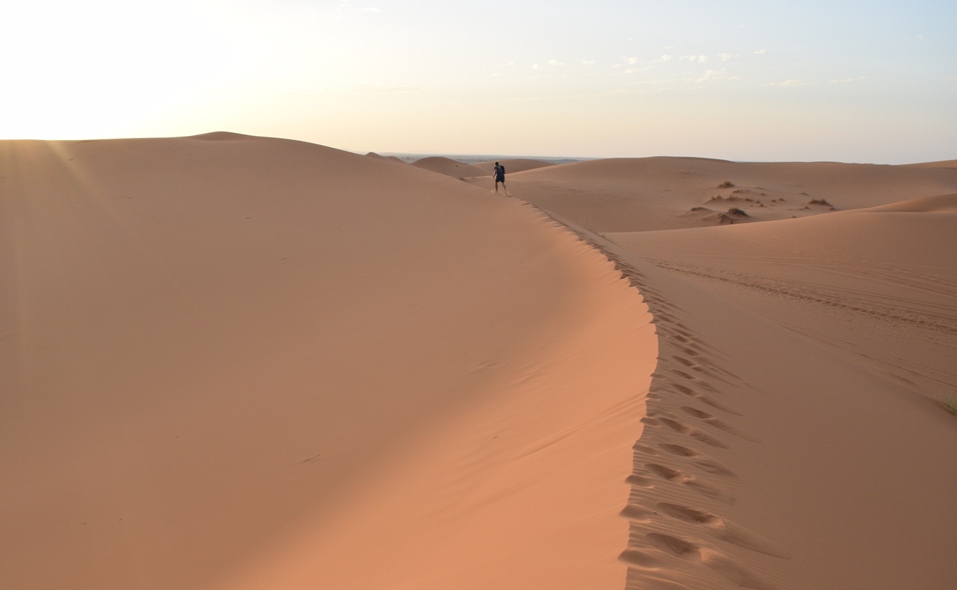 If you're staying for longer than one night, here's how the rest of your trip may look like (again, this may differ for your camp):
early morning: breakfast (ours was at Luxury Camp) and some free time
10 am: organized day trip
3 pm: lunch and free time
darkness: dinner + live music,
sunrise: going back to Merzouga and breakfast there.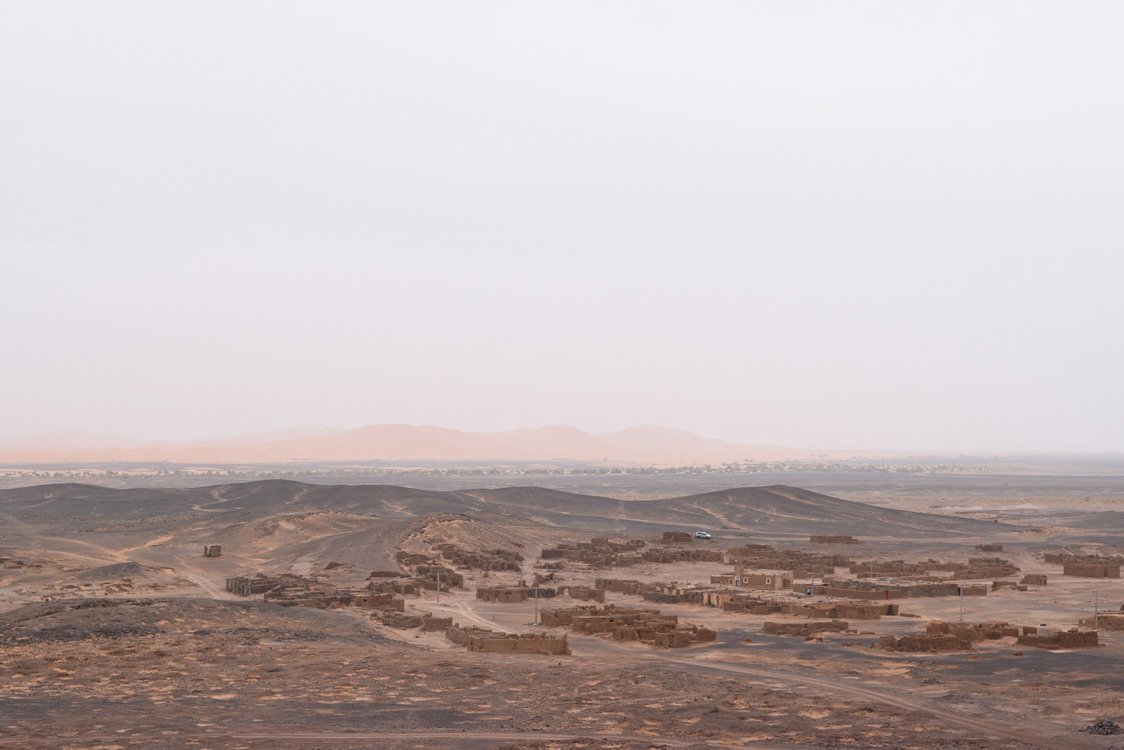 During our free time, we practiced sandboarding (which is the coolest thing ever!). As for day trips, Mohammed revealed he has up to 5 different daytrips he can do. We went to the stone desert one hour away, just a few kilometers away from Algeria. It was so interesting to see how people live there.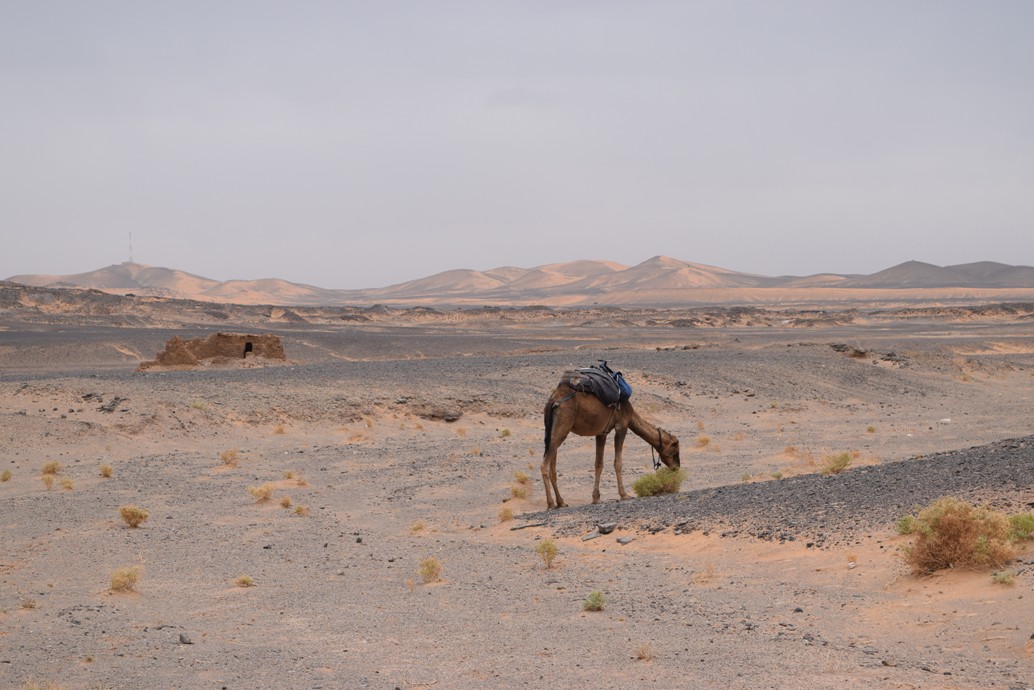 Check this post to read a funny story from that day. We had camels with us, but on our way back, we all (2 couples) requested to just walk.
Camel ride
One of my biggest concerns was how very uncomfortable the ride to the desert may be. I have read several articles about it and I was prepared for the worst.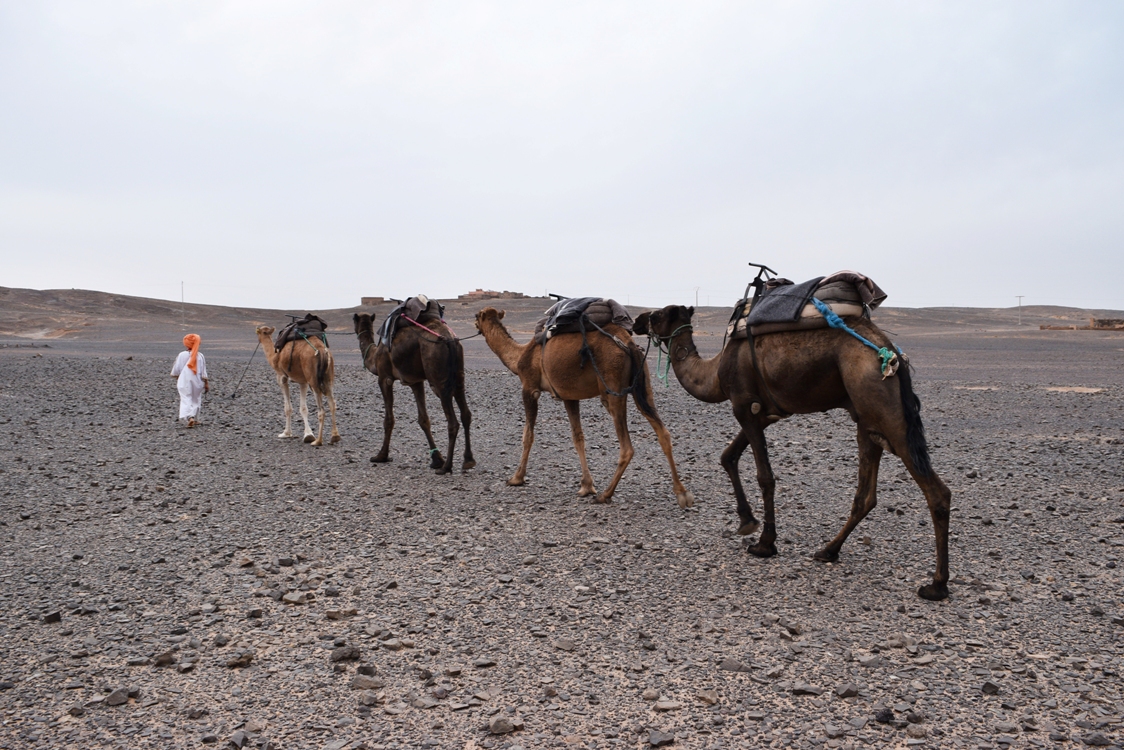 The ride turned out to be very enjoyable. You must catch the rhythm and sure, the surface is very bumpy, but riding in the sand desert was okay. Unfortunately, I can not say the same for the stone desert. This might have been because I was worried the camels were in pain (the stones looked sharp!) or because of the length. Either way, I felt so much better just walking next to them on our way back (and I believe camels were happier about it too).
Starry night
I wish I had known the settings for shooting the night sky during our first night there. It was spectacular! Do not by any means forget your tripod and a good camera (my Nikon D3300 was already strong enough).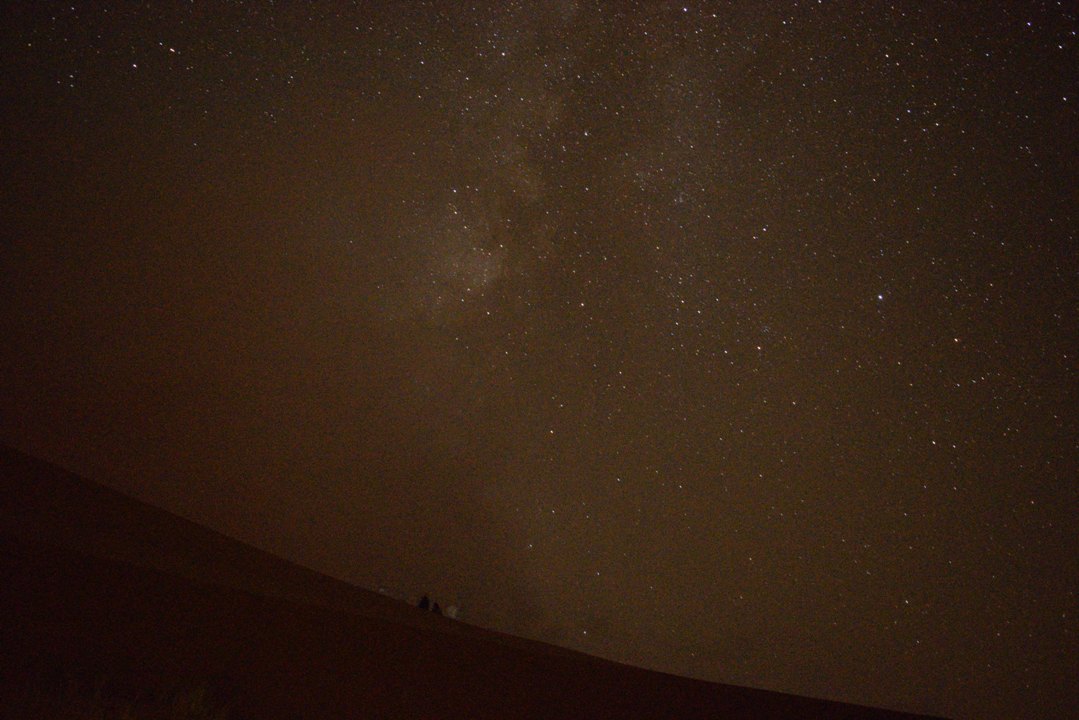 Once I found out how to take photos (thanks to Jure and helpful Asians), I got addicted to it and even when we already left the desert, I kept randomly waking up in the middle of the night and doing photography.
Have a great time!
Visiting the Merzouga desert is a must when in Morocco.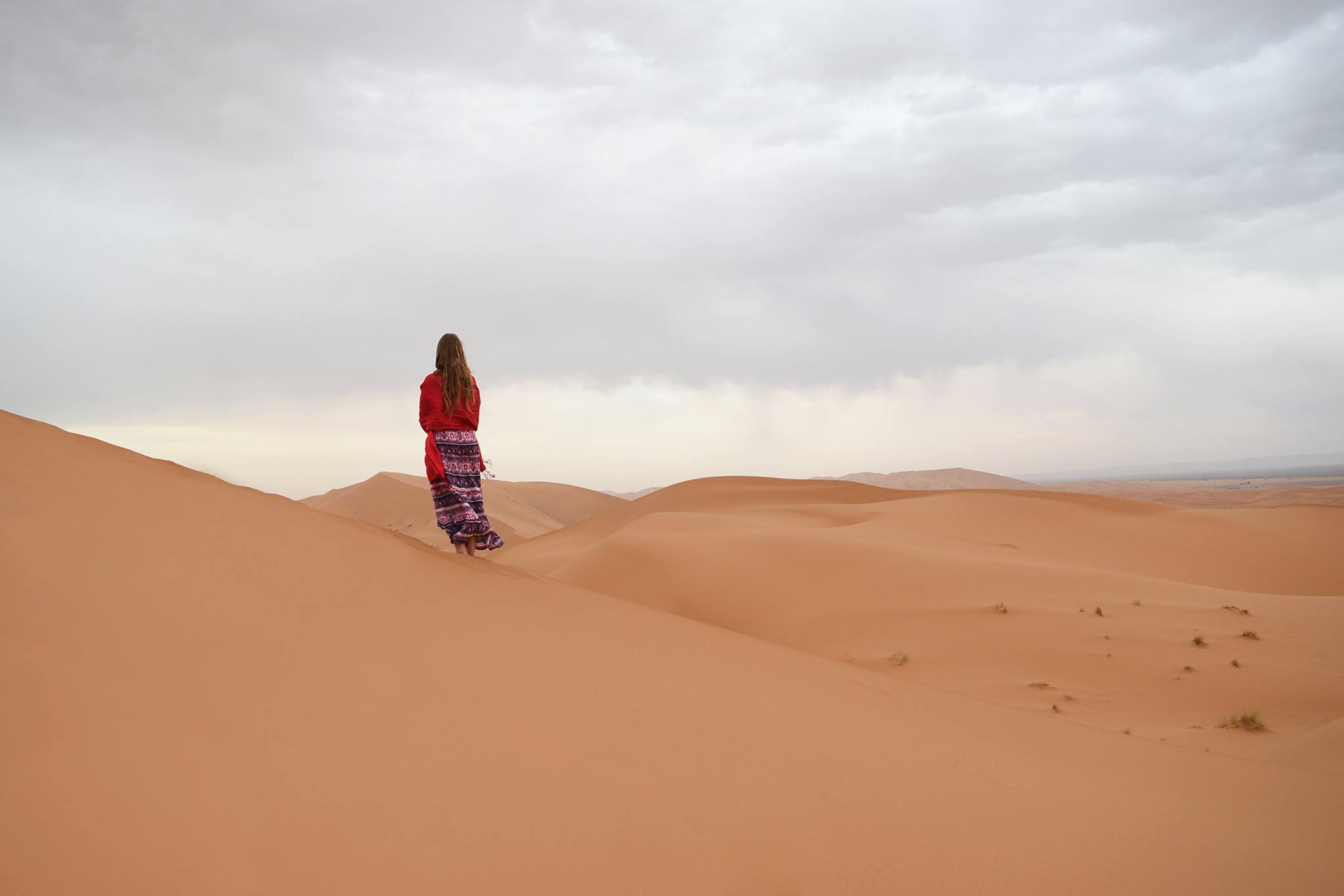 Although I have been to over 25 countries, nothing can compare to this experience and the memories we made in the middle of nowhere. The locals treated us like we were one of their own, always making sure we had the best time. We also really enjoyed spending time with other travelers and met so many new friends.

No time now? Pin for later.