Couchsurfing Experiences and Tips
On a cold evening in February 2009, I was trying to waste some time without internet at my grandparents' house. I had three choices that night: vampire-themed fantasy romance novel New Moon, TV or a new magazine titled Joy I found in my mailbox earlier that day. I chose the third option and enthusiastically began to read the fashion magazine, which was nothing special, but one article caught my attention. It was on a new phenomenon called couchsurfing (also referred to as CS). The following day, when back at home, I curiously typed the URL address listed into a browser. You had to register to see more than a homepage, something that hasn't changed til this day. I didn't do it, but I cut the article out of the magazine and put it into a secret folder I owned.
It was only in 2013 that I decided to make a step forward and register. I still knew nobody who was using it, but more and more people were aware of it. Two years later, I had my first CS experience and it was wonderful. No, let me rephrase that: it was so good that I no longer wanted to travel any other way.
What is couchsurfing?
It is the world's largest social travel network. Founded in 2003, it has a very simple concept. Many people have a couch in a living room that a stranger could crash on. This website lets you offer yours to a fellow traveller. What you get in return is a new friend and some company.
When to use it?
– When you're travelling alone and don't want to spend all the time by yourself.
– If you're on budget.
– You are seeking local tips or somebody to show you around.
– You simply wish to meet more travellers and/or locals.
How about safety?
Check the references. Always read what others are saying about your future host and you'll be fine.
My tips
– Have your profile completed. Introduce yourself, add at least one photo where your face is visible and if possible, connect with a friend who's already an active use on there. As a host you want to choose a person that seems trustworthy. After all you're sharing your personal space.
– Be persistent. Sometimes you'll find a host in a day, other times it's going to take you 30 tries.
– Read every single thing stated on a profile of your future host. Do they have cats and you're allergic to them? Find somebody else. Be careful to read their rules and respect them.
– Send a request, not a message.
– When requesting a couch, tell something about yourself, your plans for the trip and mostly importantly, why you chose that person. Do you share the same hobbies? Maybe your music taste is identical? I host in Ljubljana, Slovenia (small city!) and yet I receive around 20 requests per day (even in winter). Can you even imagine how many somebody in NYC gets?
– Check when the user was last active. If that's 2012, you better close the tab and choose another host to write to.
– Don't be afraid to write to new members. We all start somewhere.
– If you're travelling with a partner, link to their profile in your request. The host will be grateful for that information.
– I usually send my requests out 2-3 weeks before reaching the destination. I think that's not to soon for those who like to plan ahead but also not too far away.
– Check the references. I can not stress how important this is.
EXPERIENCES
Please note: Although most of these people no longer host, I chose not to use their full names and identifying details to protect the privacy of individuals.
Toronto, Canada

P. was an American, who moved to Toronto for work. He was our age and lived in a downtown area in a very modern, beautiful looking apartment. It was a miracle he took us in, because we came there a day before Canadian thanksgiving, when everyone was spending time with their loved ones. While chilling with a glass of Corona in front of us, we started talking restaurants and American food. Focusing on American pizza, because pizza, you know … One hour later, me and Jure were both biting into a pizzas our host ordered us. We stayed there for 2 nights and I believe part of the reason why I'm so in love with Toronto, is our host. Such a great experience.
Paris, France
Writing to Paris couchsurfers was pure joy. I received quick replies from almost all of them, which was great. Most of the responses were negative, but it was not hard to find somebody to host us. (At this point I was again without any references (from hosts), because the only positive one published, was deleted when our previous host deactivated their account.) We first stayed for 3 days with funny Argentinian, who worked as a chef. The apartment was spacious and clean. He showed us Paris from a foreigner's perspective – and it was great to learn what issues he had to deal with. We went to see Eiffel Tower together on our first day there, Père Lachaise Cemetery on second and had more and less serious discussions when it got dark. Thanks to N. we visited Catacombs of Paris – my favourite spot in the city I can't recommend enough. Originally we planned to skip it.
We then did 2 nights at airbnb, which was really nice, but staying with E. and A. was even better! We were welcomed by E., who gave us some French beers to try. One hour later, in the most charming apartment I have even been to (you can't even see it all in that photo!), we were laughing, sharing our stories and eating a wonderful meal the couple prepared for us. Their couch was huge and more comfortable than you ever expect the couch to be. I'll never forget all the cheeses we tasted when staying with them. Few months later, we hosted them in Slovenia. Our days were spent eating, playing board games and laughing at silly jokes.
Before leaving Paris, we also met with T., who took us out for beers. I remember having the biggest smile on my face after our meeting (part of the reason is that Eiffel Tower was sparkling right when we stepped out of the pub).
Ljubljana, Slovenia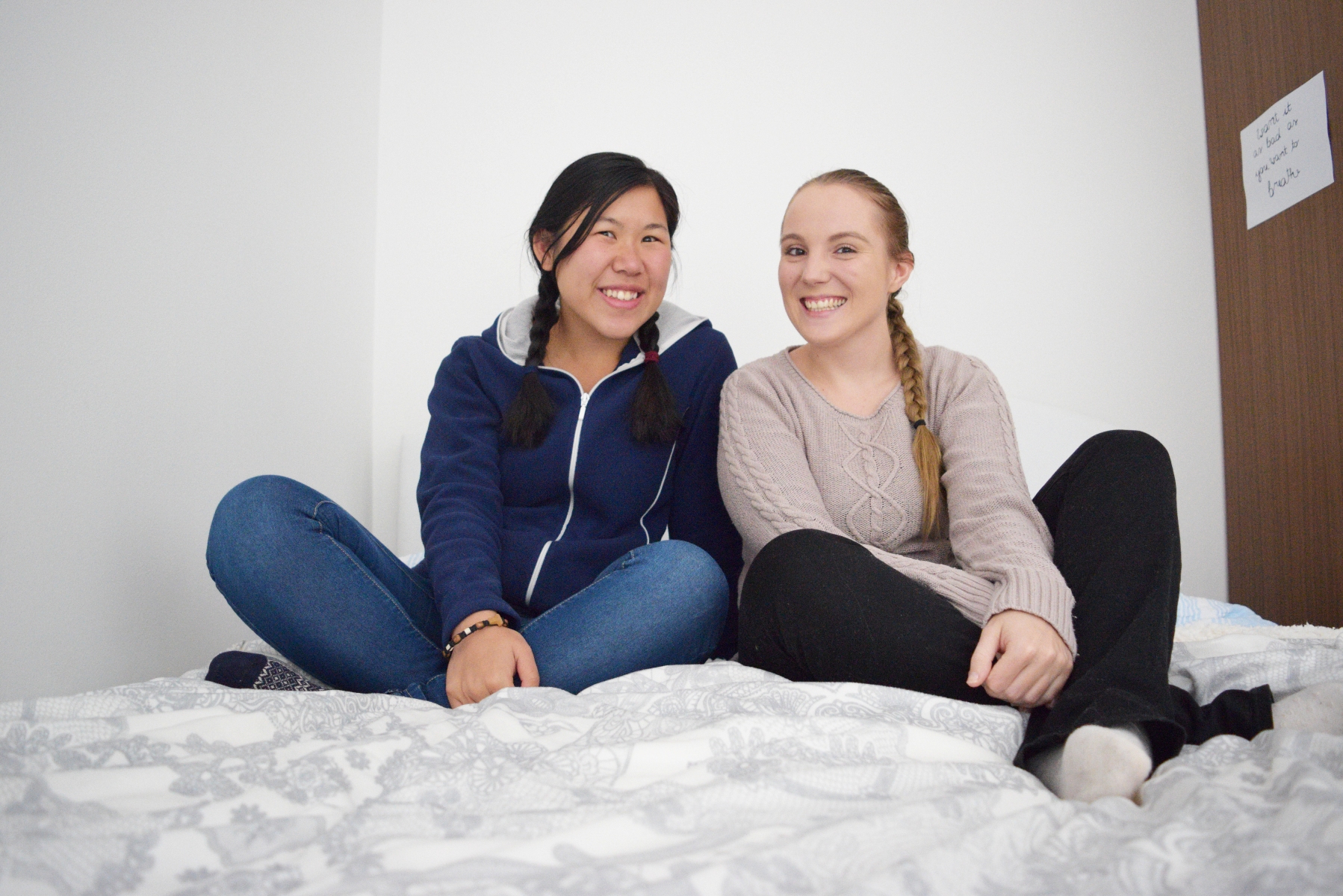 In July 2016, when I was searching for an apartment in Ljubljana, I wanted something, where I could host. Before that I met with a couple of people for a drink, but after so many positive experiences I wished to take it all a step further. Til this day I have hosted 7 wonderful people from 7 different countries and met with a couple more for breakfast or a walk. The shortest stay was 1 night long, the longest one lasted almost a week. Many of my guests cooked something delicious (I'm most likely still day-dreaming about it), played guitar for me and were my personal motivational speakers when I had to study. They surprised me with thoughtful thank you letters and small gifts I'll treasure forever. I feel like I've grown so much as a person listening to their interesting stories, tips on certain destination and hearing the lessons they learnt.
So here's my tip for you: join the community and connect with fellow travellers. Couchsurfing is all about paying forward. What goes around, comes around. You'll have a wonderful time and your trips will be even more unforgettable. Start here.