5 Full Days in Magical Cappadocia: All You Need to Know
"See this photo on a wall?" I say pointing to a small restaurant while walking around Budapest at midnight. "That is Uçhisar and it's my favourite place on Earth." It is no secret I was madly in love with Cappadocia, Turkey even before I got there. However, once I had finally made it to this historical region, I could not stop talking about how much I want to go back. Although months have passed, I still daydream about the unique moon-like landscape every week.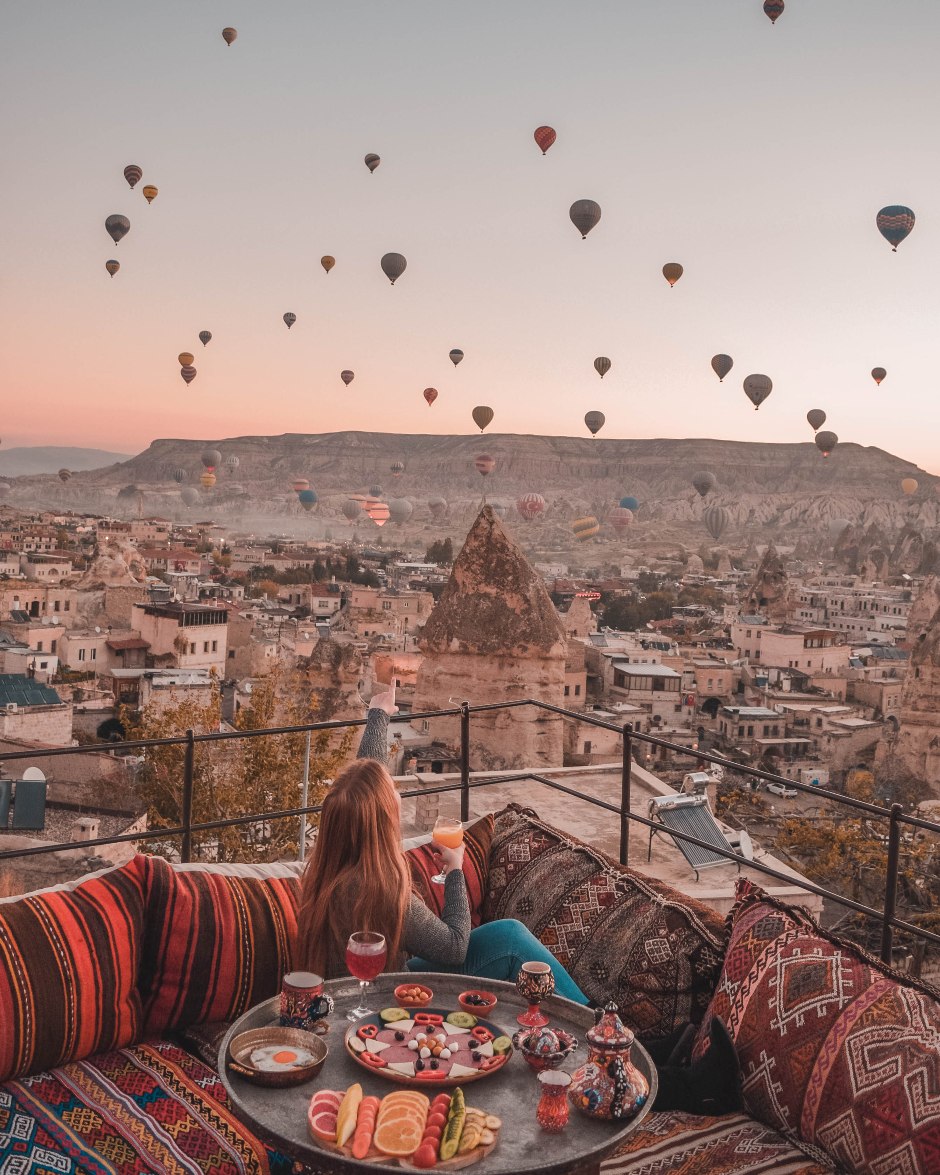 In this post, I will be sharing what we did, where we stayed and the tips I have for you. In total, we spent 6 nights in Cappadocia. We didn't visit any other place in Turkey during that trip because our holiday time was limited. I would highly recommend combining Instanbul, Pamukkale and Cappadocia, if you have more time.
Arriving to Cappadocia
We landed at Nevşehir airport and got taken to our hotel by a shuttle. We organized it beforehand with our hotel in Goreme and it cost 50 TRY (around 7 EUR) for both.
TIP: Kayseri airport is a bit further, however still very close to Goreme and the shuttle companies operate there as well. Another option would be to rent a car. Roads are almost empty so this is the best way to get around.
Day 1: Hot Air Balloon and Goreme Open Air Museum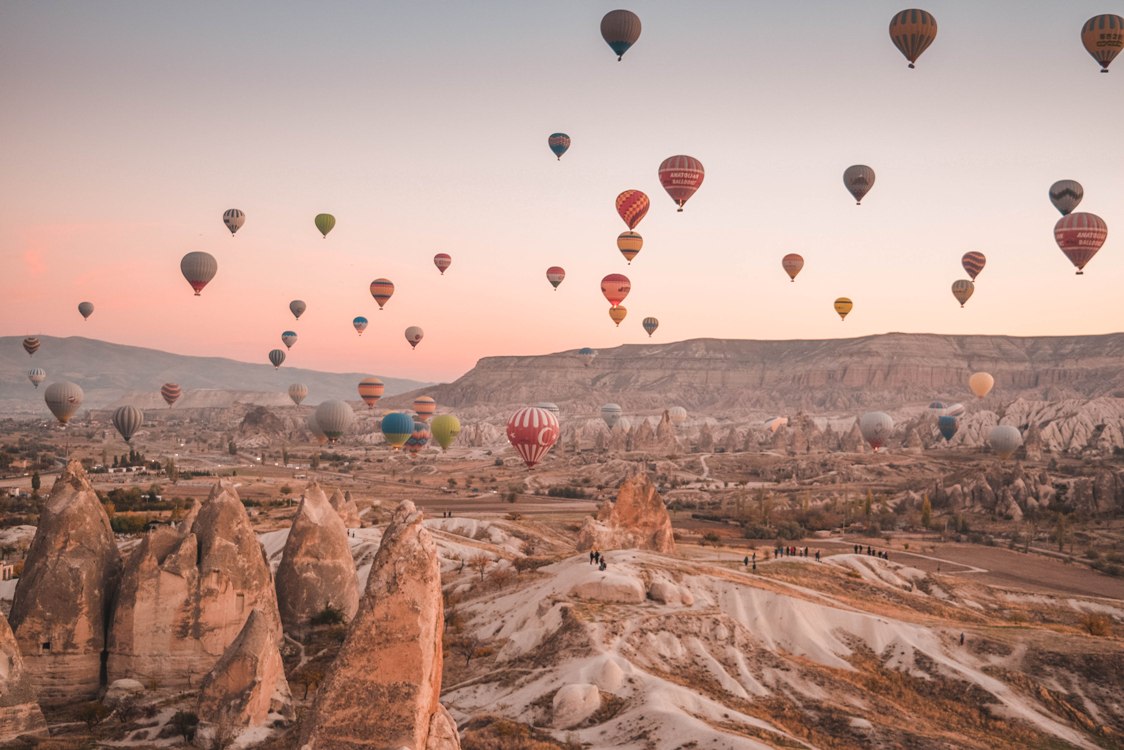 The first rule of being in Cappadocia is that you must never miss a sunrise. And what better way to see one than from a hot air balloon? I chose not to do it because the prices are not the lowest (min 130 EUR per person and growing each year), but I still regret my decision. Everyone I talked to had only good things to say about this once-in-a-lifetime experience and when I am back, I will certainly treat myself to the panoramic flight over the honeycombed hills. If this activity is not in your budget or you are afraid of flying, catch the sunrise somewhere else. Head to sunrise view point, sunset view point or simply enjoy the view from your hotel. Believe me, every single sunrise is worth waking up for.
TIP: If you plan to do the balloon ride, please be aware that in colder months they often get cancelled because of the weather. I suggest you book at least two nights in Cappadocia, just to be safe.
After breakfast, get ready and visit Goreme Open Air Museum. It is a Unesco World Heritage and here you can admire refectory monasteries placed side-by-side. The museum is not free, but well worth the entrance. Try to get there as early as you can, because the sight is very popular. Spend the rest of the day walking around the area close to the museum. There are so many pathways and most people are too bothered to walk uphill (or they are in a hurry). I recommend visiting Al Nazar Church and then continuing to the other side of the hill, where you can find a small, narrow gorge.
TIP: Take good shoes. Hiking boots or anything with a really good tread will do. The sandstone is smooth with a layer of grit on top so it is really hard to get a grip. My Nikes helped me to land on the floor more often than I wished.
Day 2: Green Tour
In Cappadocia, there are three full-day tours that cover different parts of the region. Red covers the central part, blue tour is mostly focused on churches and monasteries and the green one taken you the furthest away from Goreme. If you are in the area just for a day or two, go for the red one. It will allow you to see all the main sights in a day (you can do them on your own like we did, but if your time is limited, the tour will be a better choice). However, if you really want to see the area and also enjoy some greenery, I highly recommend you opt for the green tour.
The Green Tour includes:
Hotel pick up around 9 am
Several sights (and all the entrances)
Derinkuyu Underground City
Ihlara Valley
Selime Monastery
Uchisar Pigeon Valley
and more…
Lunch
The prices of the green and red tour are comparable, while the blue one is a bit more expensive. Back in November 2018, the green tour was €33.
NOTE: The prices will always be stated to you in euros, because of how unstable the Turkish lira is.
I thought this tour was a great way to go a bit off the beaten path and see the sights many don't.
Day 3: ATV Tour
On your third day, I suggest you do an ATV tour. If you are travelling with a friend or a partner, you can either share an ATV (what we chose to do) or you can each rent your own. In November 2018, the prices were running from €30. There are two tours you can choose between, one takes place during the day and the second one is scheduled for the late afternoon. I chose the sunset tour, but if I had to choose again, I'd go for the earlier one.
Note: Tours can easily be booked at a hostel/hotel a day before they take place.
At the sunset time, you will be in Rose Valley, which is gorgeous, however, at the rest of the locations, you will have very sharp shadows to deal with. Unfortunately, that made it hard to take nice photos. Either way, the tour was so much fun! We started with a short course on how to operate a vehicle. After that, we passed Cavusin, and continued to Rose Valley, Girls Monastery, Red Valley, Swords Valley and Love Valley.
Day 4: Devrent (Imaginary Valley), Zelve Open Air Museum, Fairy Chimneys
There are more options on how you can get to these locations. The easiest one is by taking a red tour (which will also cover several other places), however that one isn't the cheapest. Another one would be to take a taxi to Devrent and then continue on foot or you could just hire a driver.
Note: The hotel owners also told us about a bus that runs to Devrent, however they were unsure if it operates in winter. If you are interested in this option, it's worth asking around.
We were lucky that our hosts offered to give us a ride to the Imaginary Valley. From there we walked.
Day 5: Uçhisar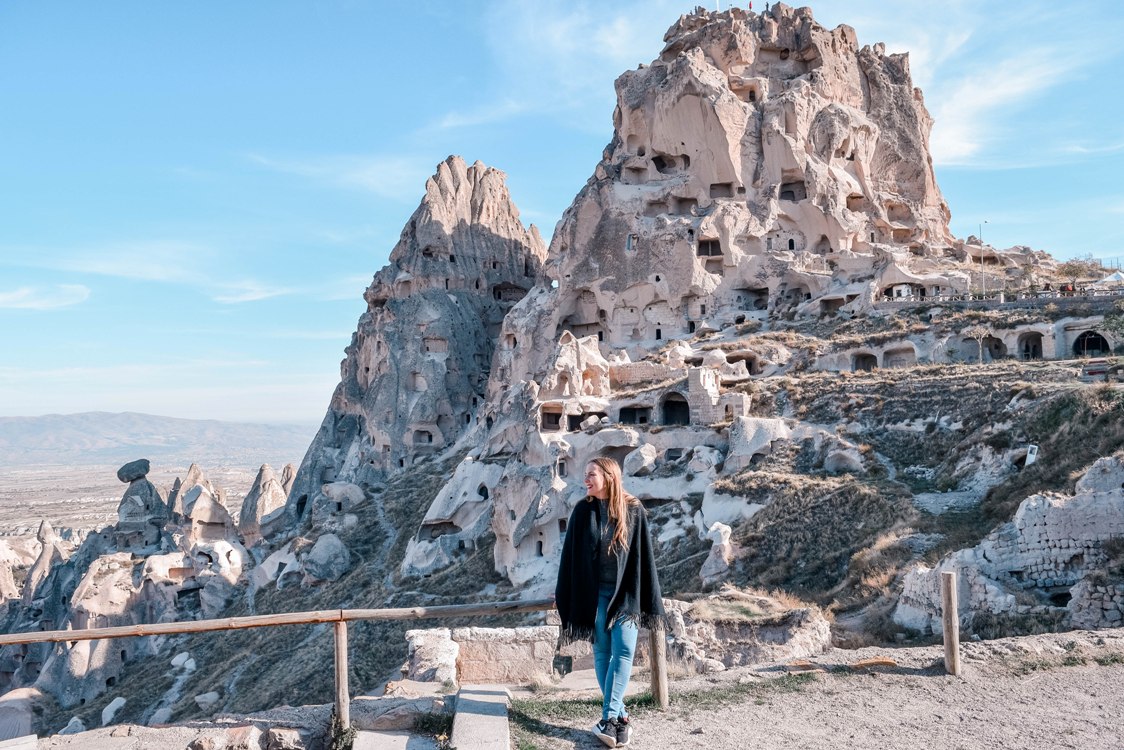 Uçhisar is a small town close to Goreme. There you will find many cute little shops (perfect for souvenirs), a beautiful castle and the friendliest locals. To get to Uçhisar, you will have to order a taxi (unless your hotel offers a shuttle service). Don't leave it out though, I couldn't believe how lovely it was!

Where to stay
Dorm rooms in Cappadocia run from as low as €4 per night, so if you are travelling solo, you might want to consider that. However, while there are many good hostels, I will only comment on the places I have personally tested (and I did my research beforehand).
Charming Cave Hotel
Charming Cave Hotel is by far the best (family-run) hotel I have ever stayed in. Not only will you sleep in a cave, but their service is out of this world. They prepared apple tea for us several times a day, offered free shuttle service to different towns nearby, gave us the best tips and prepared a fantastic breakfast. The hotel is also just a 5-minute walk away from one of the best sunrise viewpoints! Their booking.com score is 9.8 (after 2000+ reviews) – I think that tells it all. Absolutely exceptional. Prices run around €55/night for a private room.
Mithra Cave Hotel
Mithra Cave Hotel is perfect if you are looking for a place with a nice rooftop view. The cave room was simple but well-maintained, the staff friendly (and very helpful, especially when I had an emergency because I burned my hand), breakfast amazing. I managed to get SO many phenomenal shots of the sky filled with balloons. Prices run around €65/night for a private room.
If you only want to get here early in the morning to that the famous IG shot on their rooftop, I better warn you in advance this is no longer possible. All the hotels now regularly check if the tourists are staying there and will not allow you to access the rooftop terrace if you are not. While some may be annoyed by that, you must realise the terraces get really crowded when everyone is posing. There is plenty of space though and everyone is respectful so you can be sure you will get your perfect shot if that concerns you.
Fun fact: The breakfast you see displayed gets prepared every morning just for the display. You cannot eat behind this table.
Out of all rooftop terrace hotels, Mithra is the cheapest. It is also right next door to Sultan Cave Hotel (the best known).
Restaurants
I have tested two different restaurants because one of them impressed me so much we kept returning there (oops?). Köy Evi was great for the seafood. They also had live music, which made a lovely atmosphere. My favourite one, though, was Cappadocia Pide House. I was in love with their chicken casserole and baklava with hazelnut cream. The food is so good and very affordable.
Up to this day, Cappadocia is still on the very top of my list of all the places I have seen. Maybe because it has been so high on my bucket list for a long time or because of the kind strangers we kept meeting daily. Maybe I can blame all the red sunrises when the sky was flooded with hot air balloons or the unreal landscape. Either way, I consider this region of Turkey as my happy place.