Madeira: One Week Road Trip Itinerary
Madeira's known as an island of eternal spring. Thanks to the warm ocean currents around the island, there are no extremes here. The temperature is almost stable all year round (around 20 °C), which means you can escape there even when most of Europe is white. Most popular months, however, are from April to September, when it's a bit drier. It was no coincidence we chose the end of April for our trip – I had known years in advance I wanted to see as many flowers as possible in bloom (Madeira's flora is pretty spectacular).
When we were booking flights to Madeira Island, we were asking ourselves for how long to go. As it turns out, 7 days were the perfect amount of time to do everything a first-timer should have seen and more. I think we got to truly experience the island but I'm still looking forward to returning there someday.
TIP: Always check the weather web cams before heading anywhere and then decide what you're going to do that day.
The itinerary below is similar to the one we did but it's improved. Ours was a bit "all over the place" and this is how I'd do the trip if I was doing it again.

DAY 1: SANTA CRUZ TO RIBEIRA BRAVA
Rent a car at the airport. We chose ours via Billiger Mietwagen. Please note Madeira is very hilly and steep so it's smart to pick something better, however avoid GoldCar at all costs. They may be the biggest company on the island, but all the hassle you'll be dealing with later is just not worth it. I won't go into details, but let's just say we learnt our lesson.
TIP: Very close to the airport there's a supermarket chain named Continente. On our first day we did our groceries there. There are two main supermarket chains on the island: CONTINENTE and PINGO DOCE.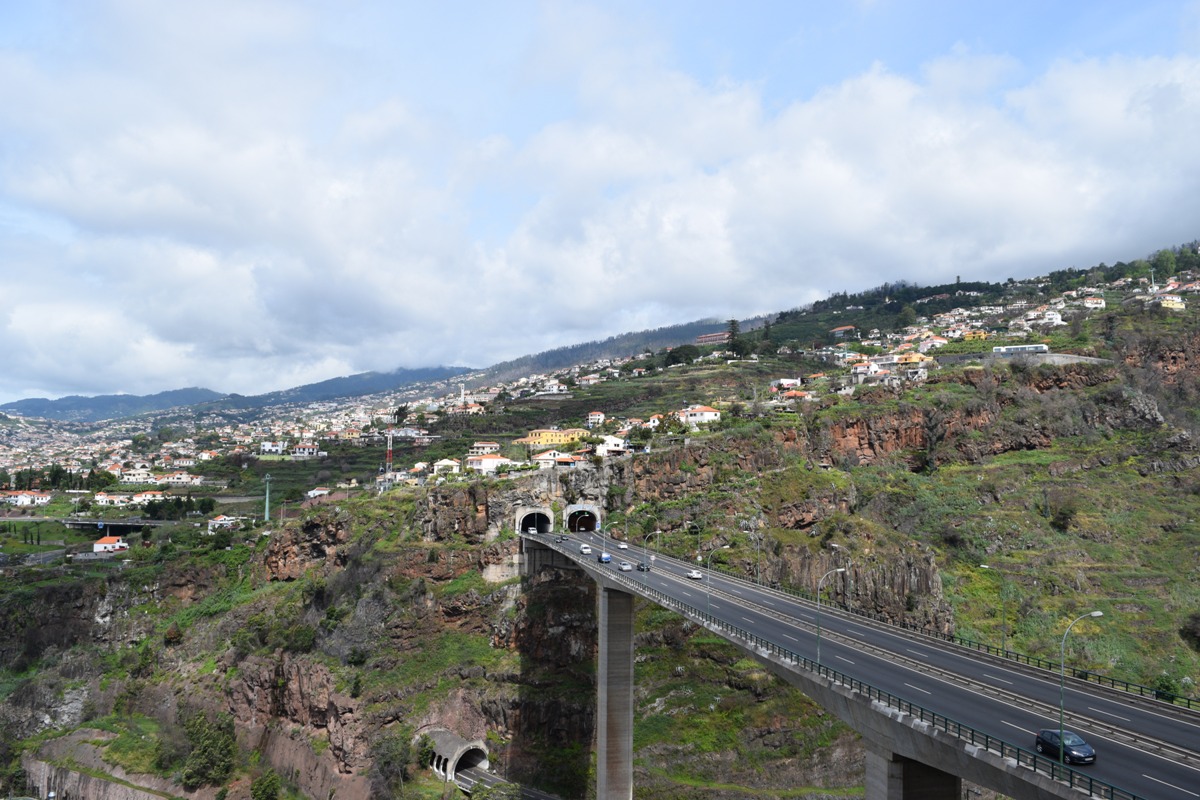 Head towards one of the best viewpoints on the island: Valley of the Nuns, a small village nestling between almost perpendicular mountains. It is very isolated and locals mainly live off what they cultivate.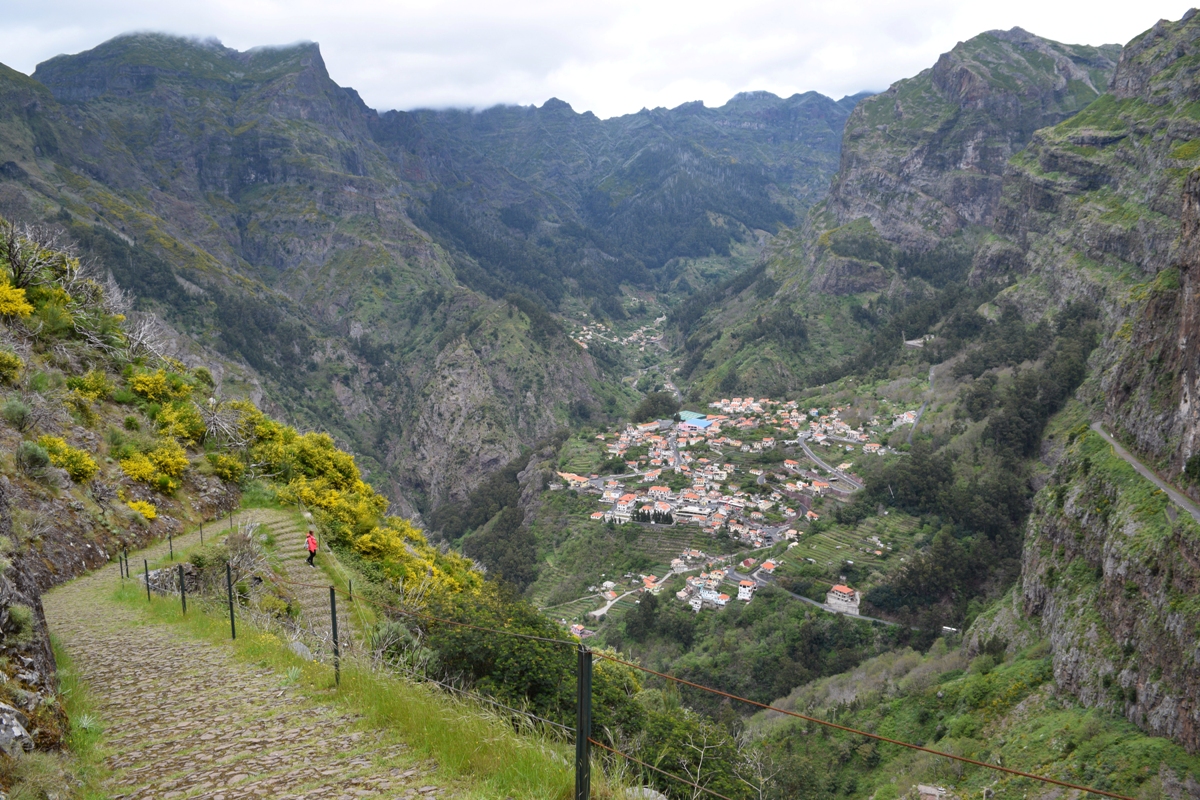 You can either take a short hike or just stop for some photos.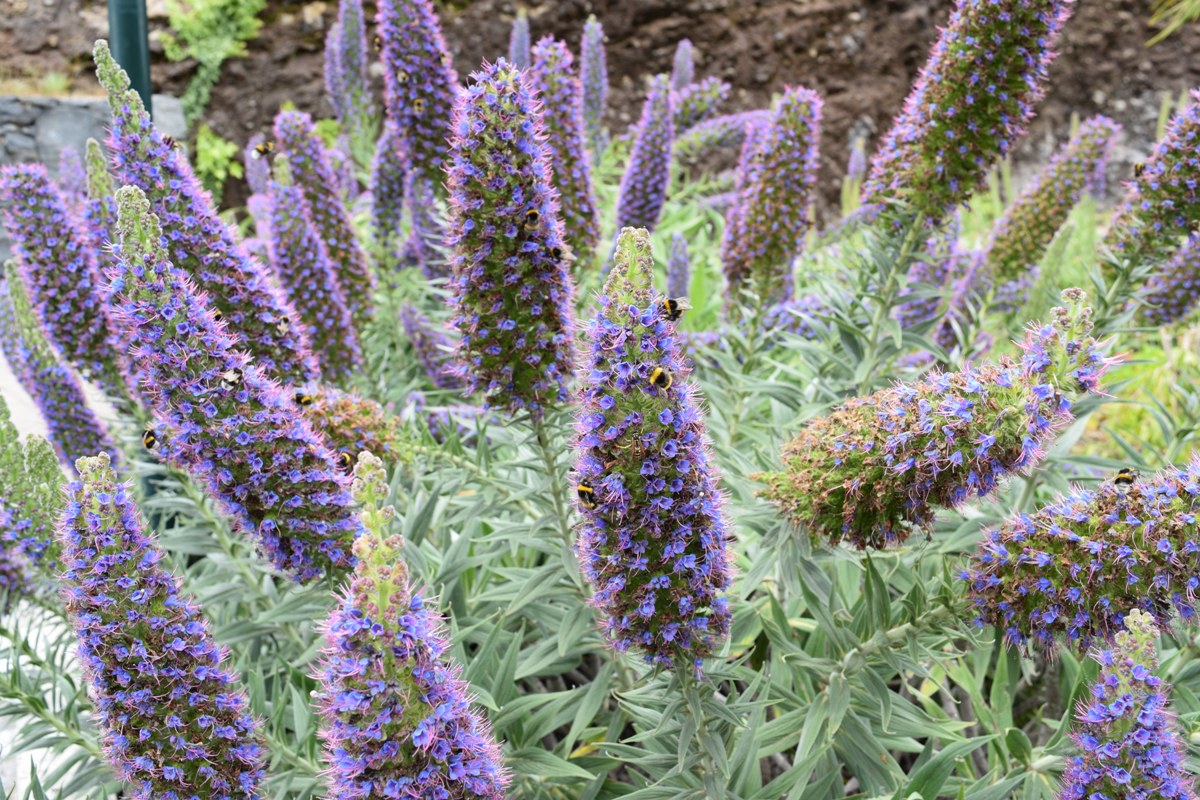 Once back at your parking spot, drive to the cutest little town. Camara de Lobos reminded me a lot of a small Greek village, where the time has stopped in an ambiance of a past era. Grab a tasty lunch at Camara de lobos cafe or some other restaurant – there are plenty to choose from.
Take your time to explore this sleepy town, it's well worth it.
The next stop is Restaurante Teleférico do Rancho. I can't comment on the food, since we didn't try it, but the views from up here are amazing (and free).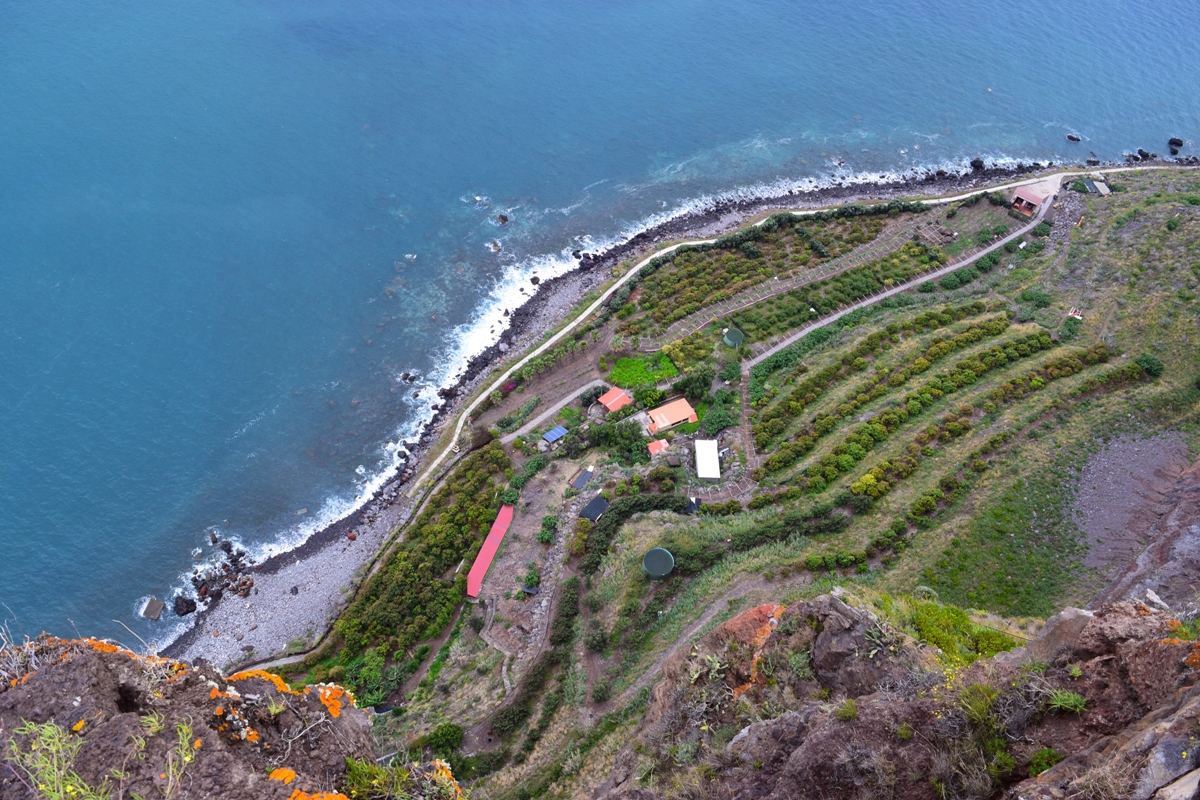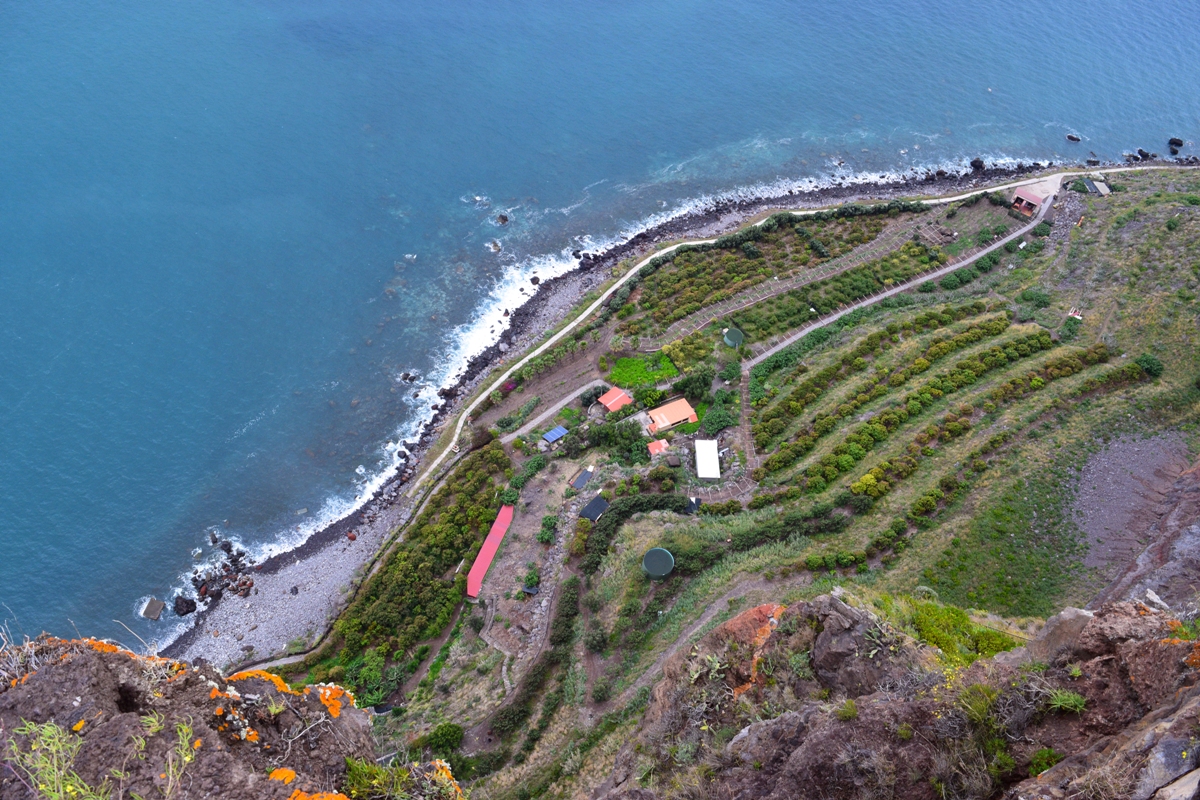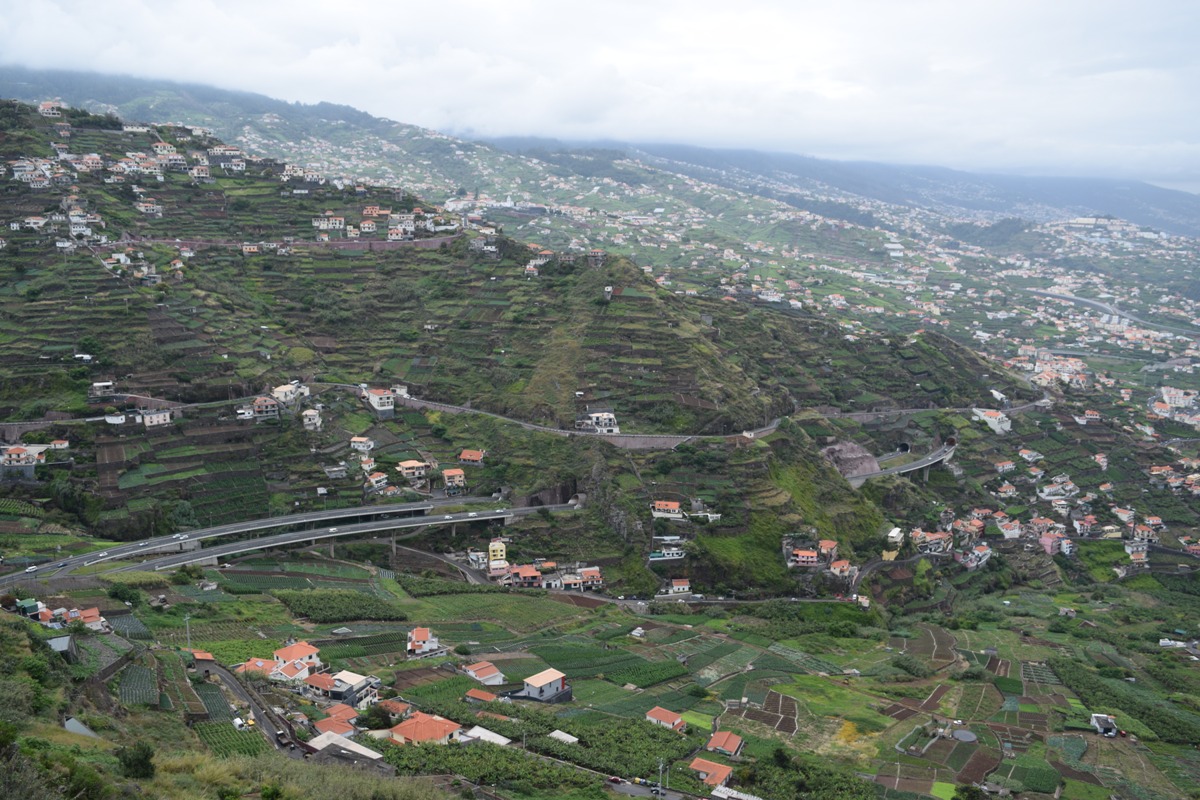 Continue to Cabo Girão, a lofty sea cliff very popular among tourists. The lookout point named The Cabo Girão Skywalk is the highest cliff skywalk in Europe. Besides the magnificent view of the ocean and surrounding areas such as Funchal and Câmara de Lobos, it also offers vertiginous views of the small areas of cultivated land at the end of the cliff known as fajãs of Rancho and Cabo Girão.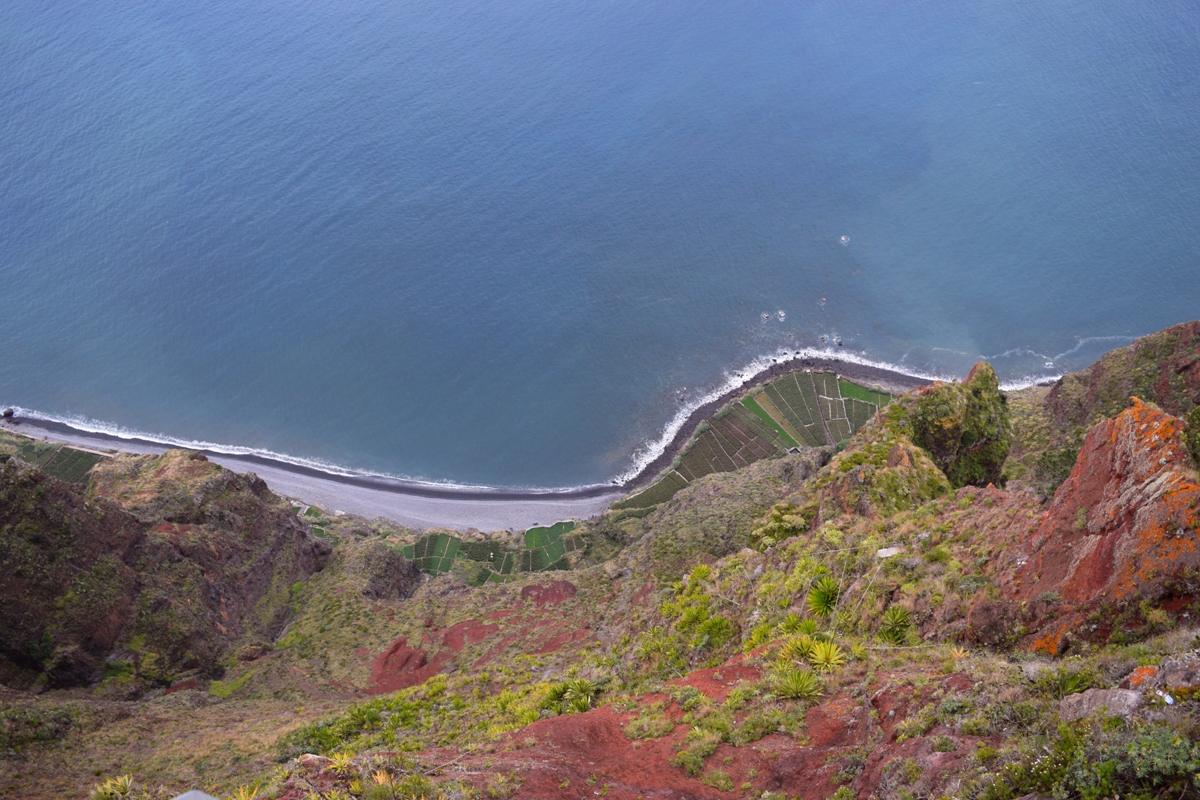 We skipped Fajã dos Padres but if you're feeling adventurous, you can take a cable car to the beach for €10.
The last stop for us was Madalena do Mar, where we joined our friends at their airbnb (fantastic find), but I'd recommend finishing yours at Ribeira Brava. Check out this cute country room on airbnb or Quinta do Cabouco guesthouse.
DAY 2: RIBERIA BRAVA TO PORTO MONIZ
If you enjoy hiking, you'll feel like you're in a paradise when visiting Madeira. There's so many of levada walks to choose from, but we did Levada Nova because of its convenient location. We finished it halfway through (after more than an hour of walking) and stopped at the small village, with no tourists around, for the beers.
Levadas are mini-canals (as seen in the pic) built to distribute water from the rainfall heavy and wet regions on the north of the island to the drier religions on the south. Nowadays there are many walking trails beside the levadas and they're perfect for those who enjoy being outside.
Another great hiking option for this day would be Paul de Serra. We ran out of time for that one, but I've heard so many good things about it. Check this site for more ideas.
In the afternoon, head towards Ponta do Pargo. The views from here are some of the best ones on the island. While just a short drive away from the capital city, the area is completely different. Western Madeira is where nature is still intact. You'll notice the sharp cliff edges, cactus-covered hills, and the rugged coastal terrain.
Our next (spontanious) stop was Lombada Velhay. All over the island, you'll notice signs saying "miradouro", which dictates there's a view point nearby. This place was one of the highlights of our trip for me, so I'm really glad we decided to follow the sign. Also, we were completely alone here at the sunset time. Does it get any better?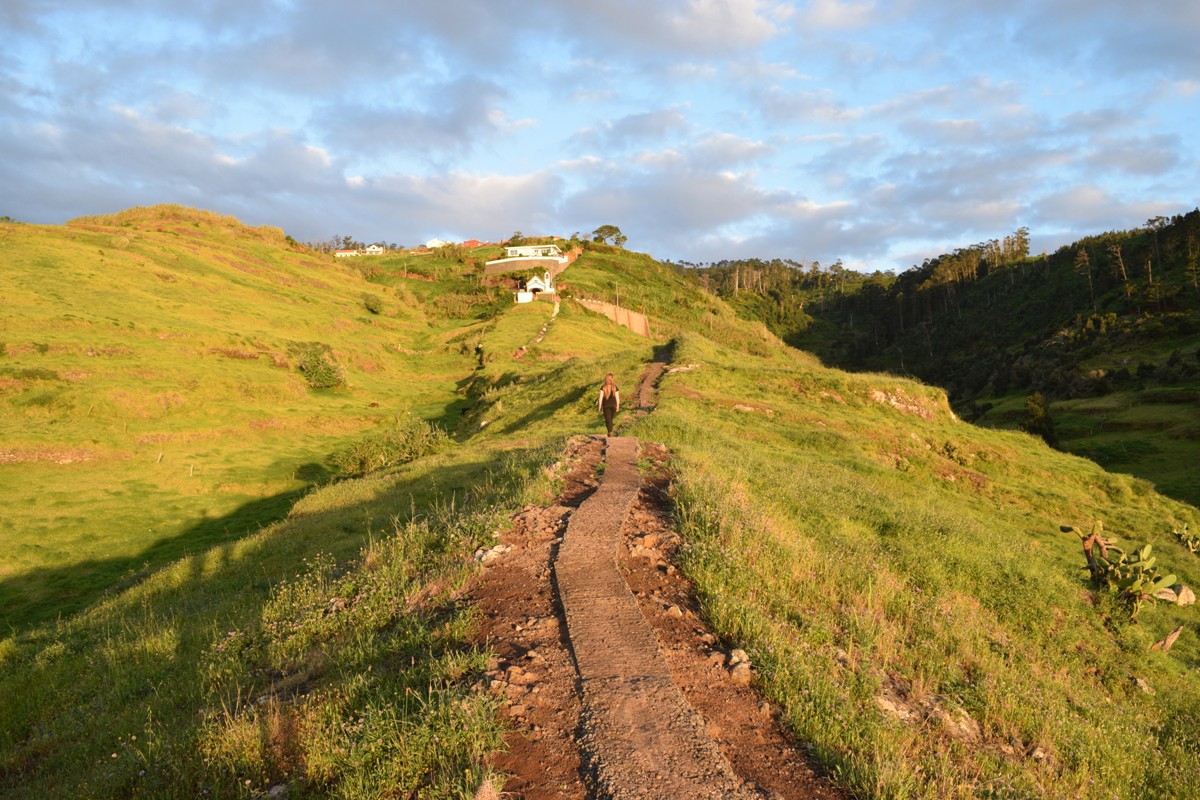 I can't express how beautiful it was. No editing had to be done on the photos, all colours are exactly as we've seen them.
We spent quite some time there.
Sleep in Porto Moniz. We slept at Apartamentos Gaivota and both absolutely loved it. A freshly prepared buffet breakfast was to die for!
DAY 3: PORTO MONIZ TO SANTANA
In the morning, enjoy a very filling breakfast and take a stroll around the town. When we were there, the weather was not warm enough for a swim but we still decided to just sit by the pools for a little while.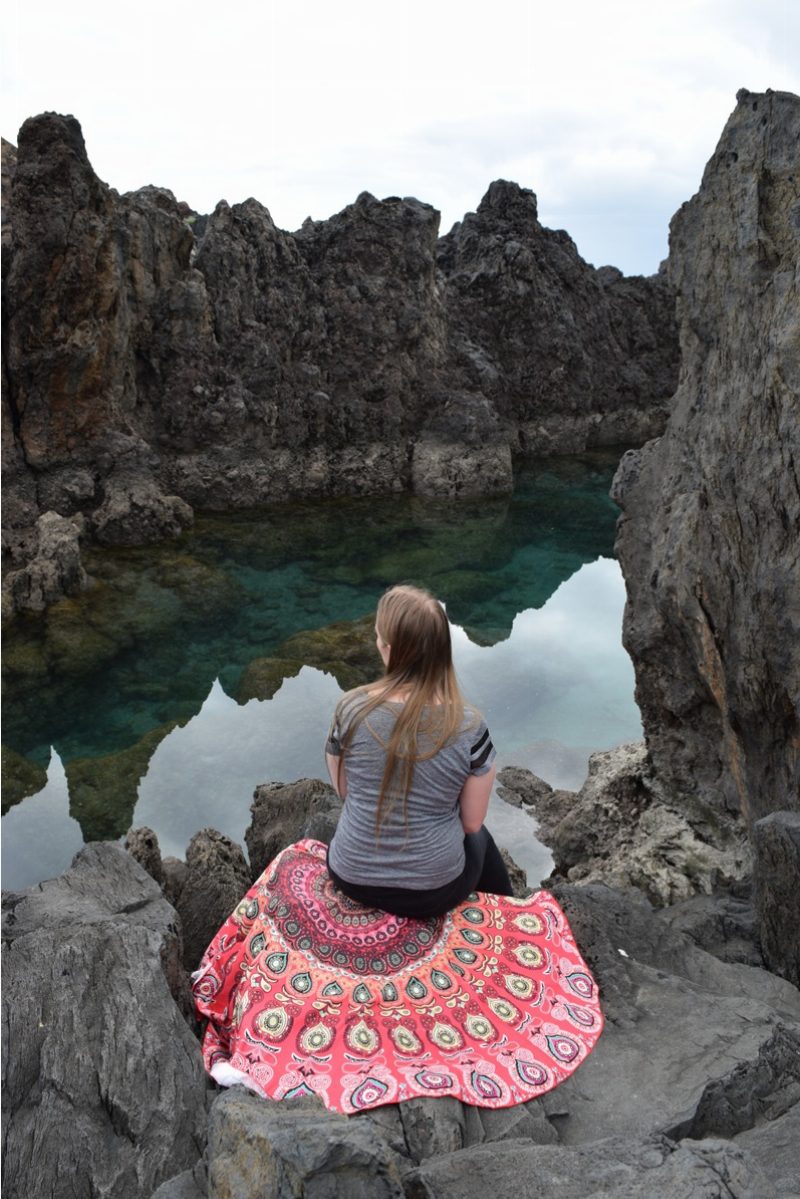 Northern site is stunning and it made us want to stop driving and go explore every 2 minutes.
Very often, we just randomly drove off the main road and go somewhere where it look inviting. That's how we soon ended near O parque de campismo do Porto Moniz (pictured below).
Again, one of those stops that take your breath away.
Jump back into your car and drive to Seixal, where a lovely path will lead you to more natural pools. These were like a hidden gem – no people around and it all seemed so much more authentic than in Porto Moniz (although both are worth stopping at!). While I was testing the temperature of the water, the sun started coming out and suddenly it felt like summer. Unfortunately, we had our swimsuits packed in our car and I was too lazy to go up and down again (the hill is quite steep) so instead, we went to get an ice cream. Don't make this mistake 😉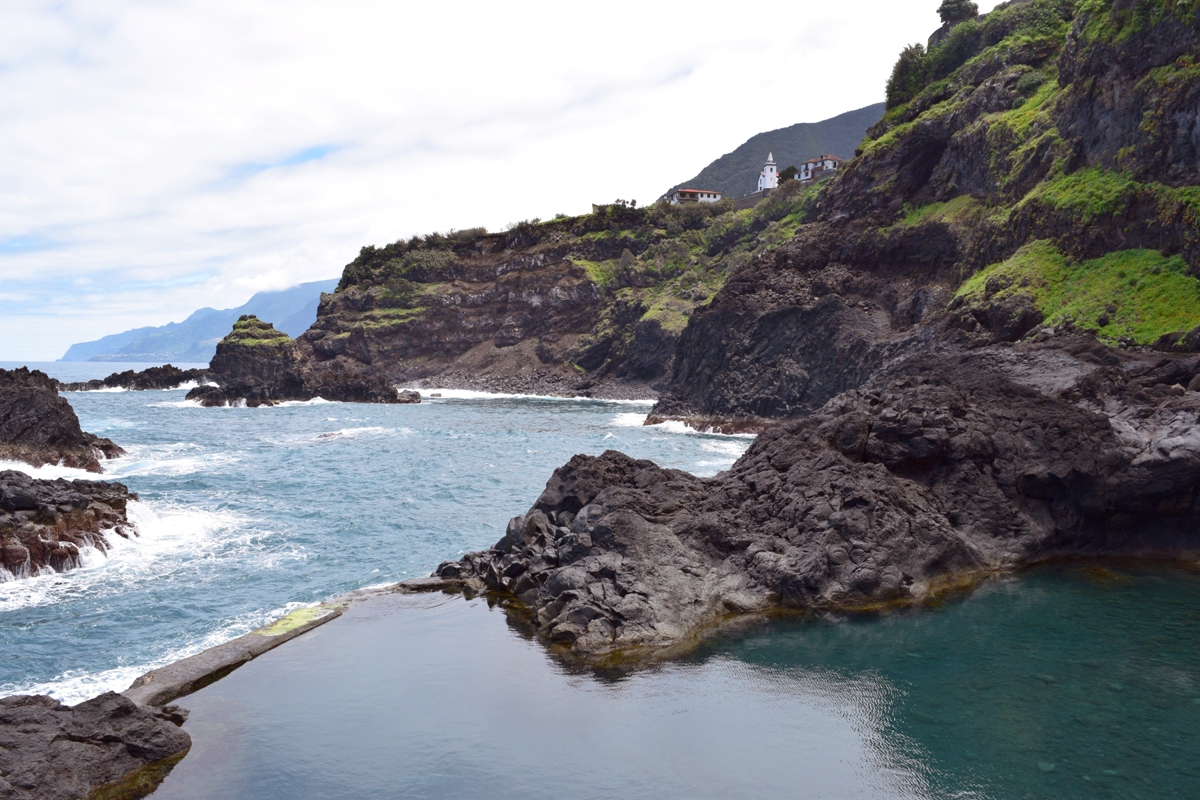 We spent quite some time soaking our feet in cold ocean water.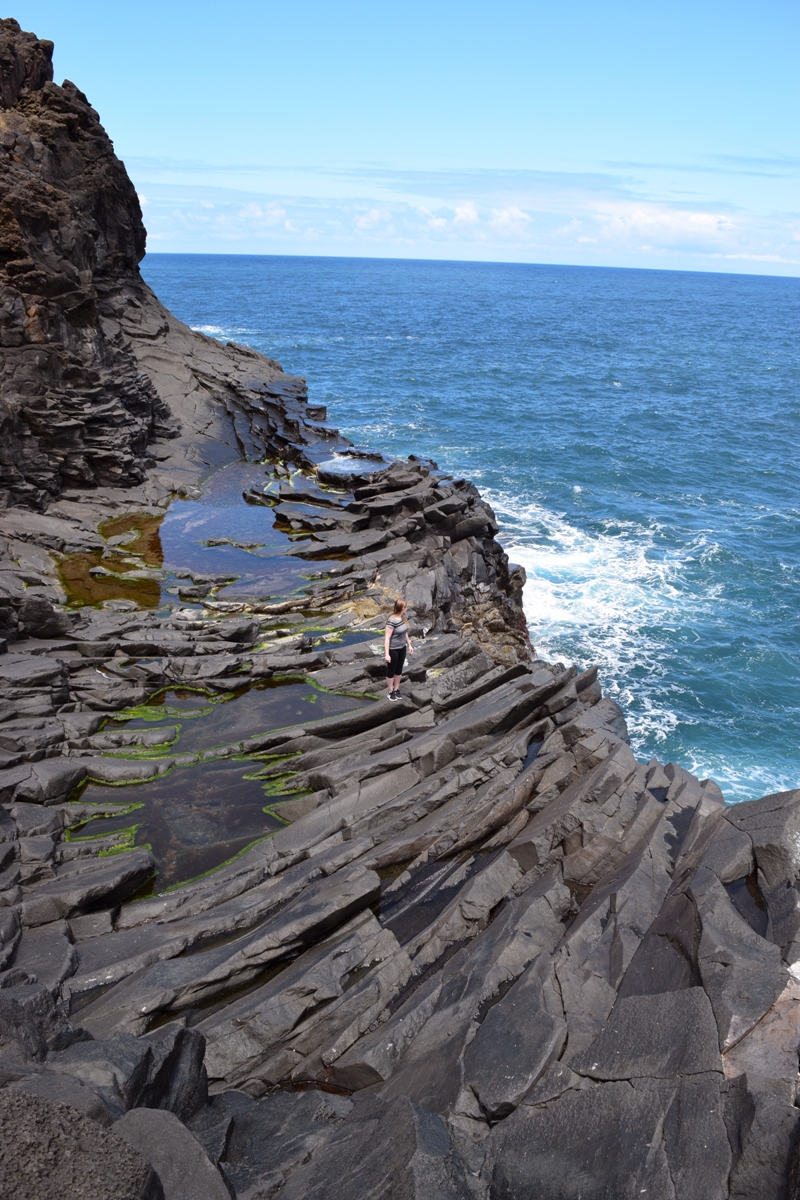 Just 5 minutes of driving later, you reach Miradouro do Véu da Noiva. It's not possible to walk to the waterfall, however it's absolutely stunning even from afar.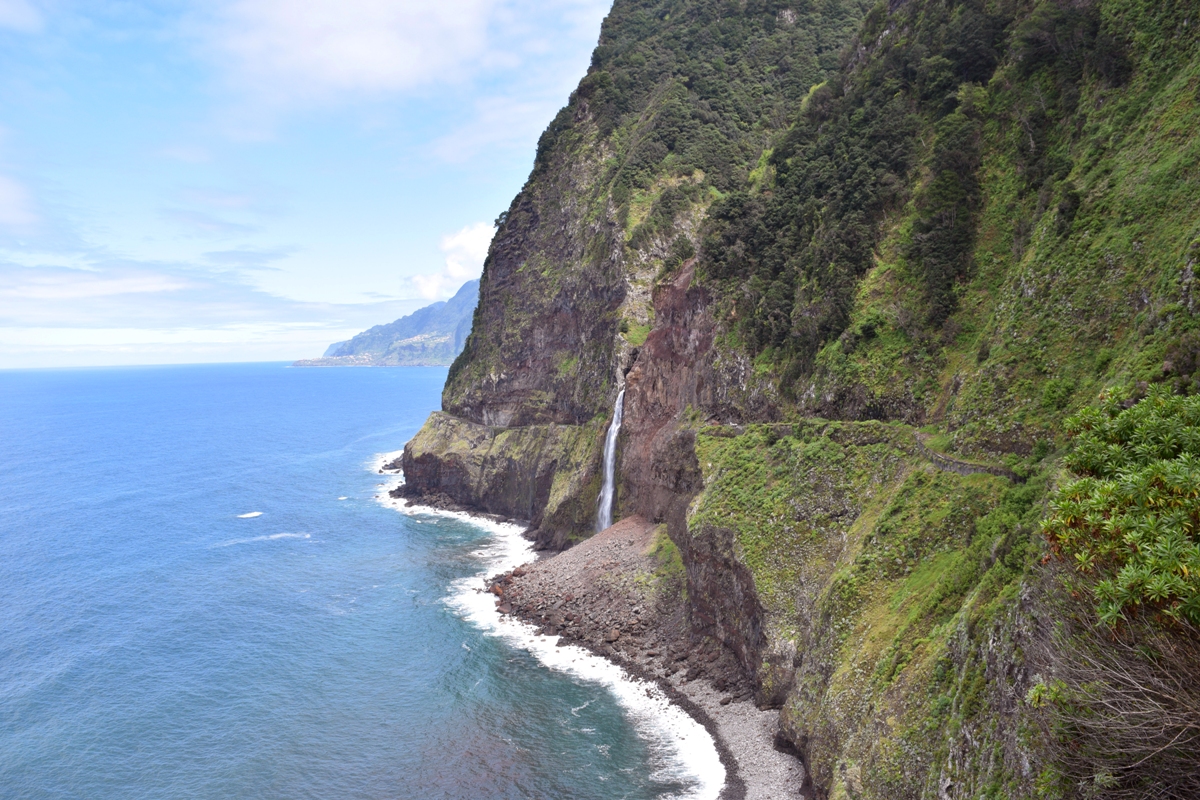 Another possible stop would be São Vicente Caves – we have heard so many good things about them! But because the day was too nice to be inside, we skipped them and at the end, we never made it back there. Next time, probably. Add that to your list, if you get a chance.
The road then leads you through beautiful Ponta Delgada and even more gorgeous Boaventura to one of my favourite viewpoints on the island, Miradouro do Cabo Aéreo.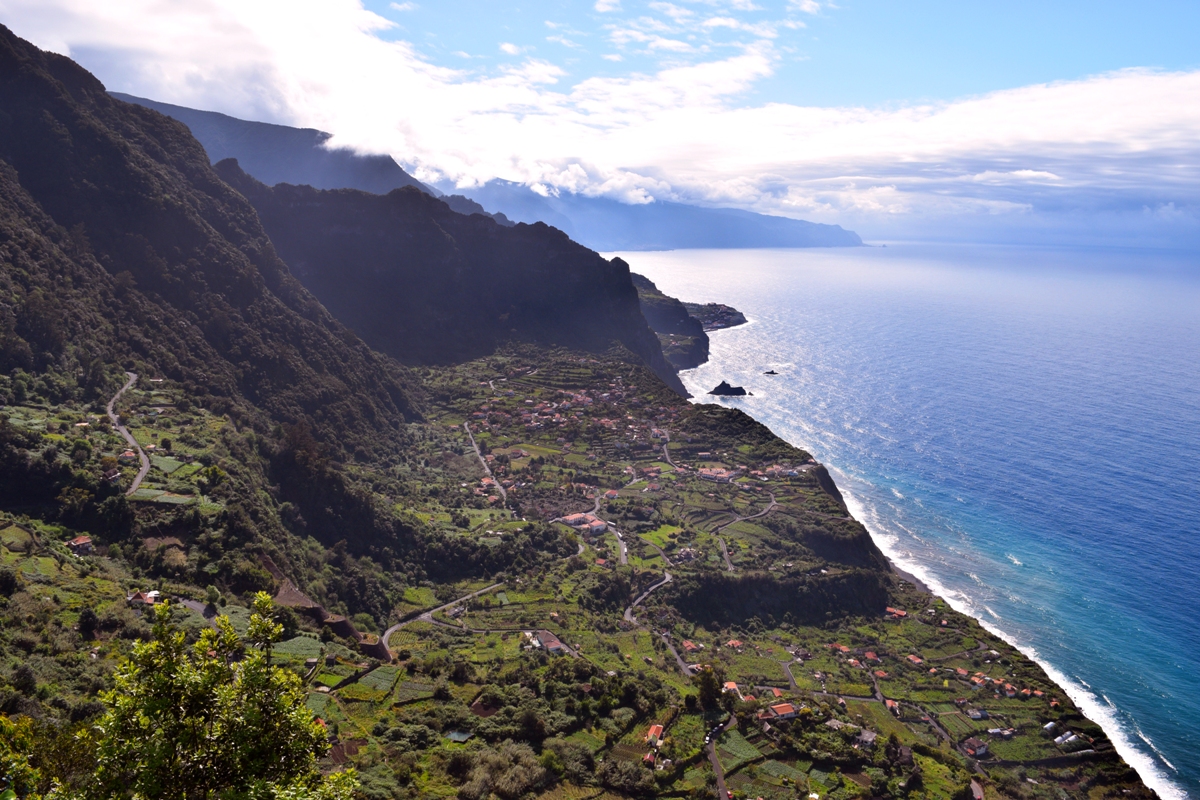 Sleep in Santana or in the surrounding area. We slept at Quinta do Lombo Hostel.
DAY 4: PICO DO ARIEIRO AND PICO RUIVO
Day 4 is all about relaxation and activity in nature.
Go to Madeira's highest mountain Pico Ruivo early in the morning. There you can start a hiking trail towards Pico do Arieiro. Try not to stop every few minutes like we did or the path will take 3-times as much time as it would have otherwise.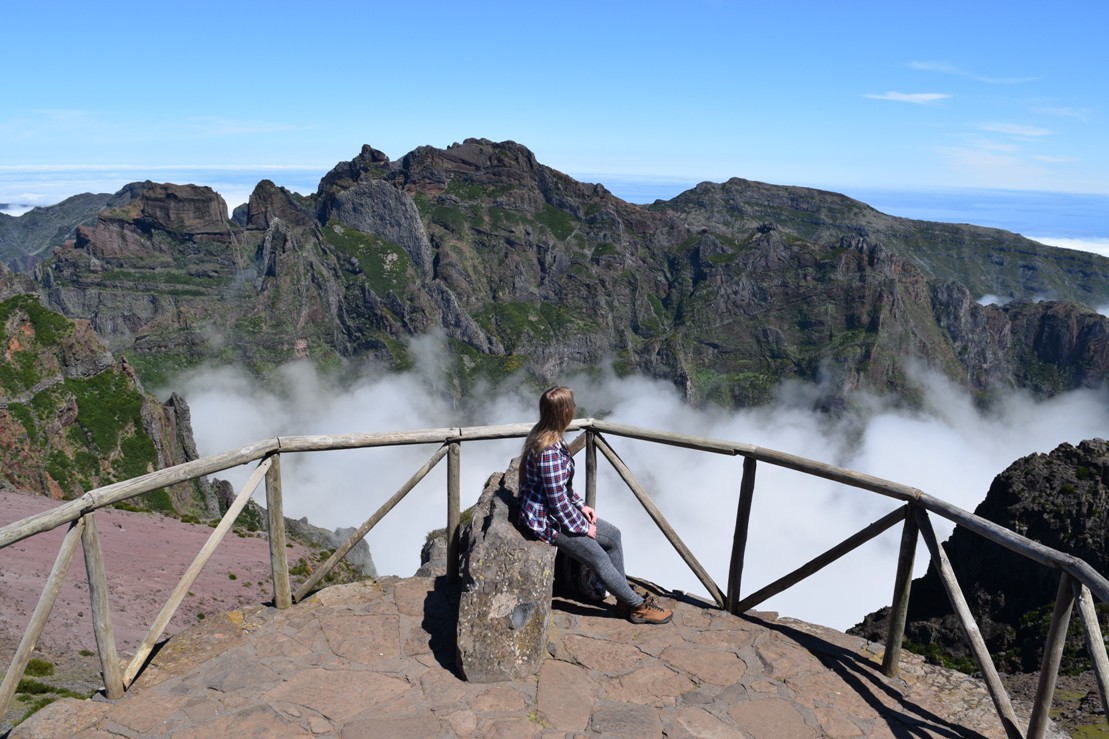 In our case: Three hours and around 10578 stairs later, we turned back. There was a bit more than a half behind us. We began quite late (around noon) and kept stopping a lot. Learn from our mistake and go as early as you can. The path is well-marked, so you don't need a guide, but beware: it's not the easiest if you're not fit.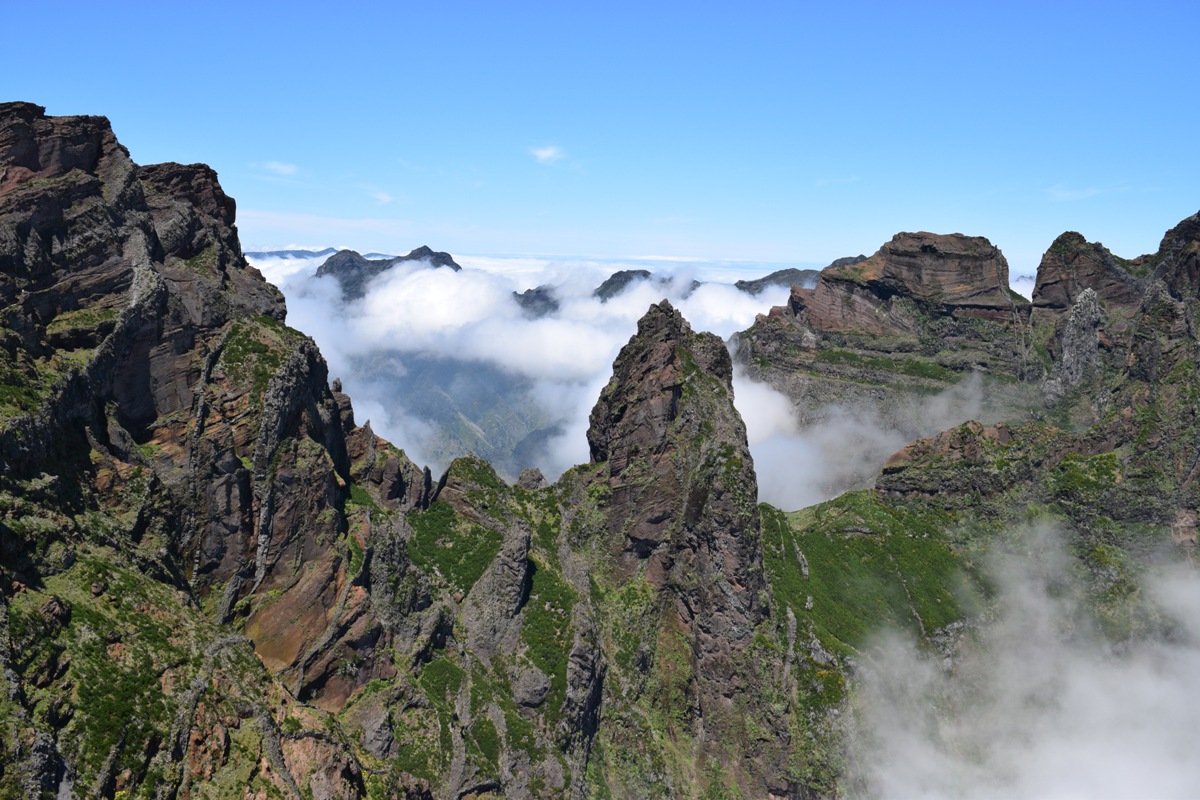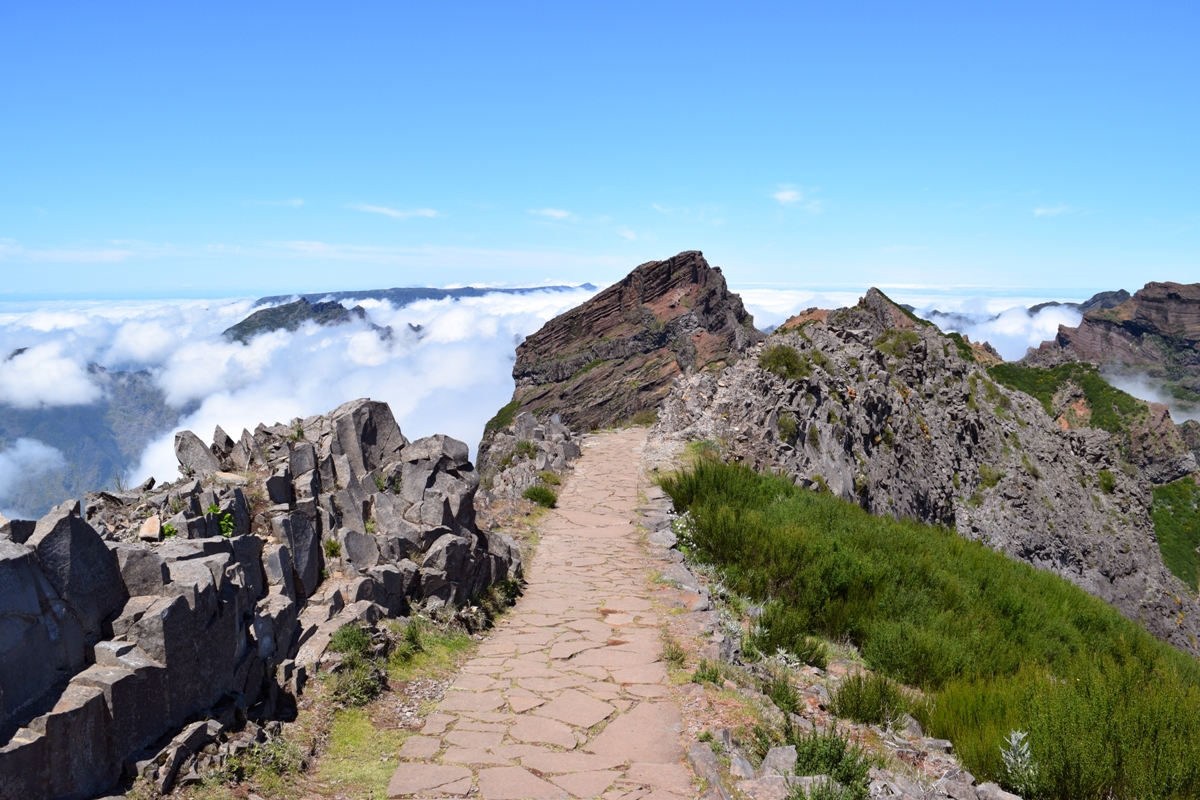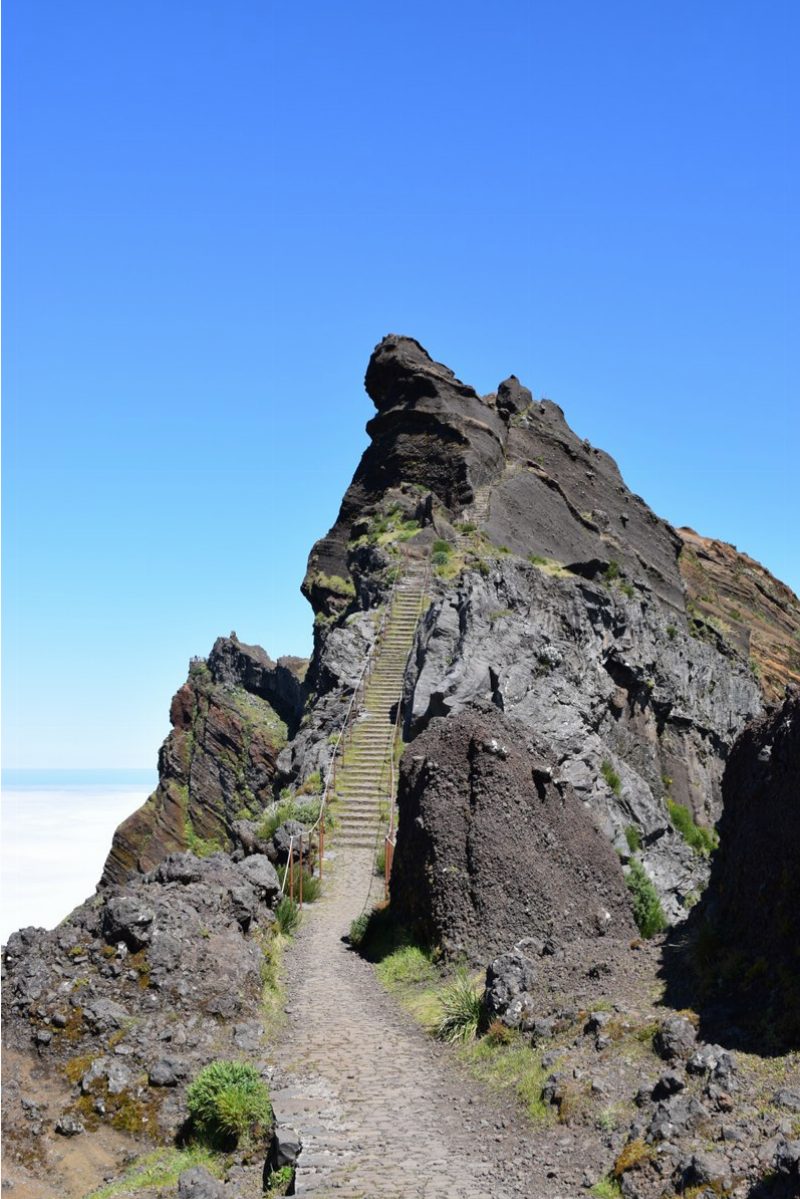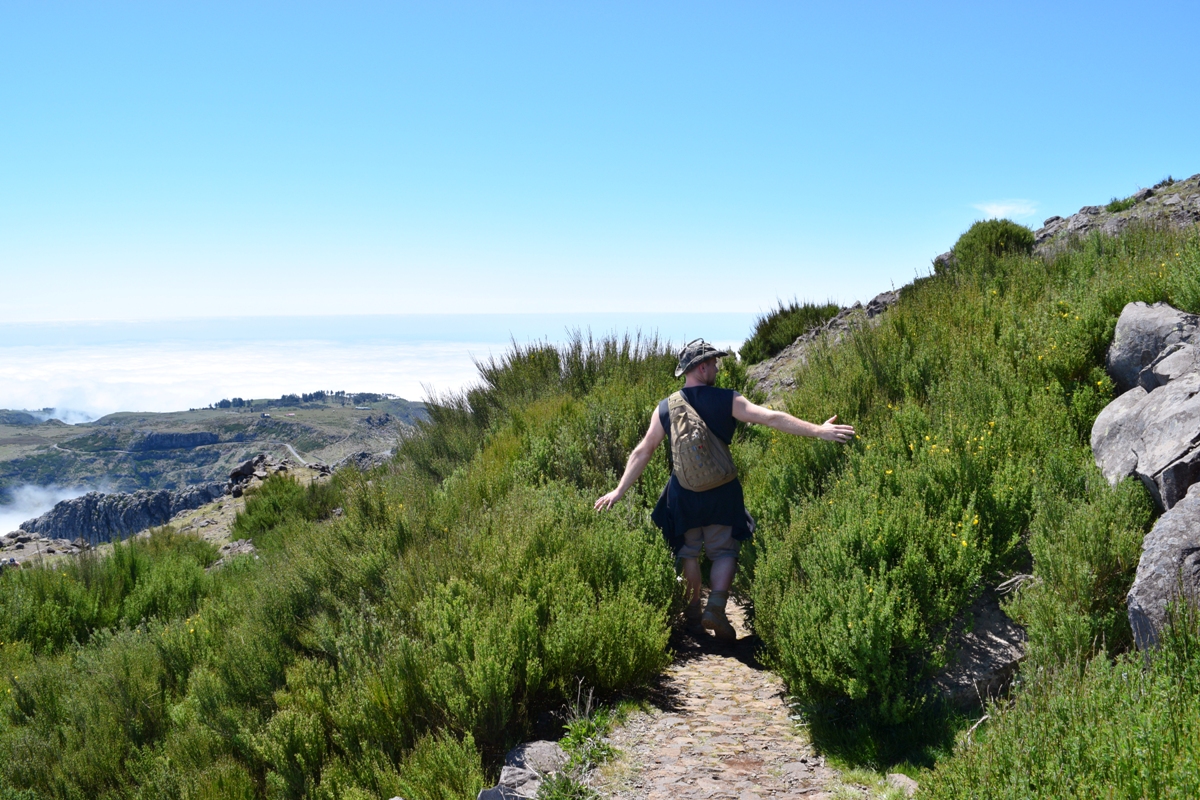 If you don't like hiking, don't worry – you can drive to both mountain peaks! Go there for the view and some fresh air.
Sleep in Santana.
DAY 5: SANTANA TO FUNCHAL
Start the day by driving through Ribeiro Frio to Balcoes de Ribeiro Frio. This stunning viewpoint is 5-minute walk away from the main road. You can't miss the signs.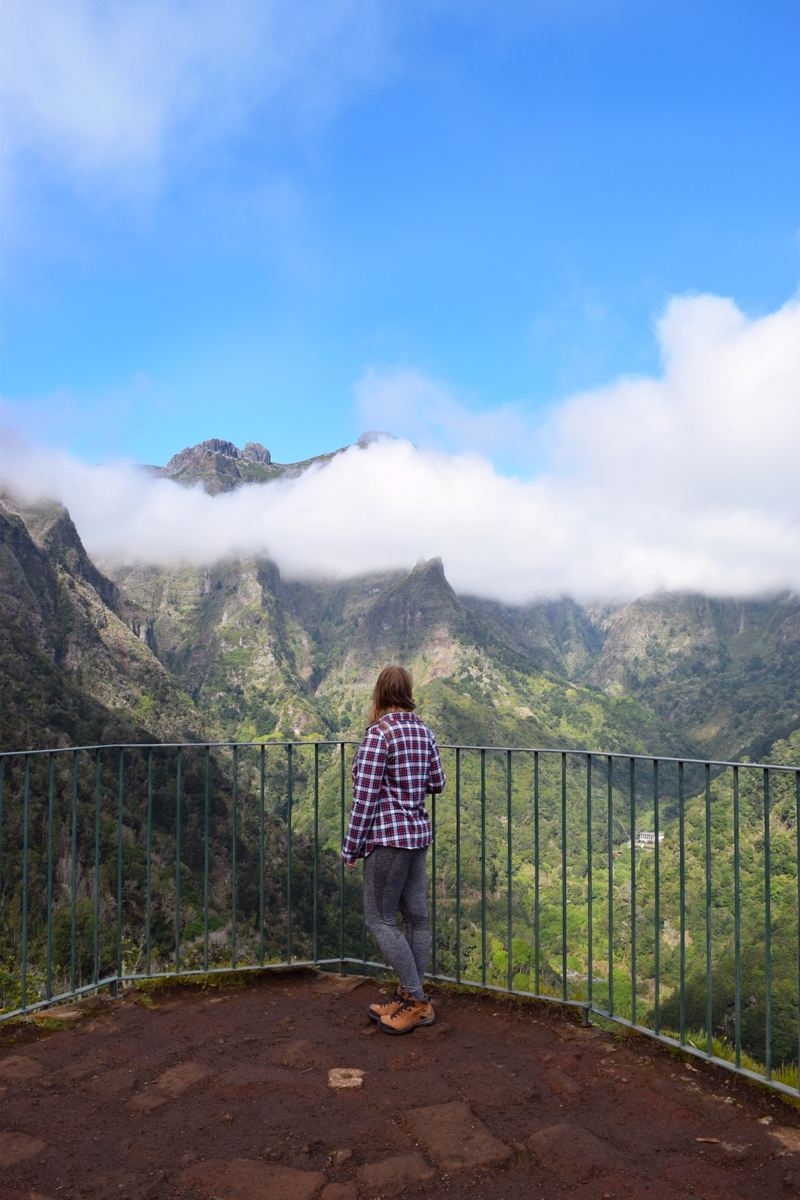 Then continue to the capital city. Funchal is small and can easily be explored in a day. Do some people watching at the port, challenge your taste buds at Madeira market, get a bit tipsy on Blandy's Winelodge tour and have a dinner in one of the many restaurants.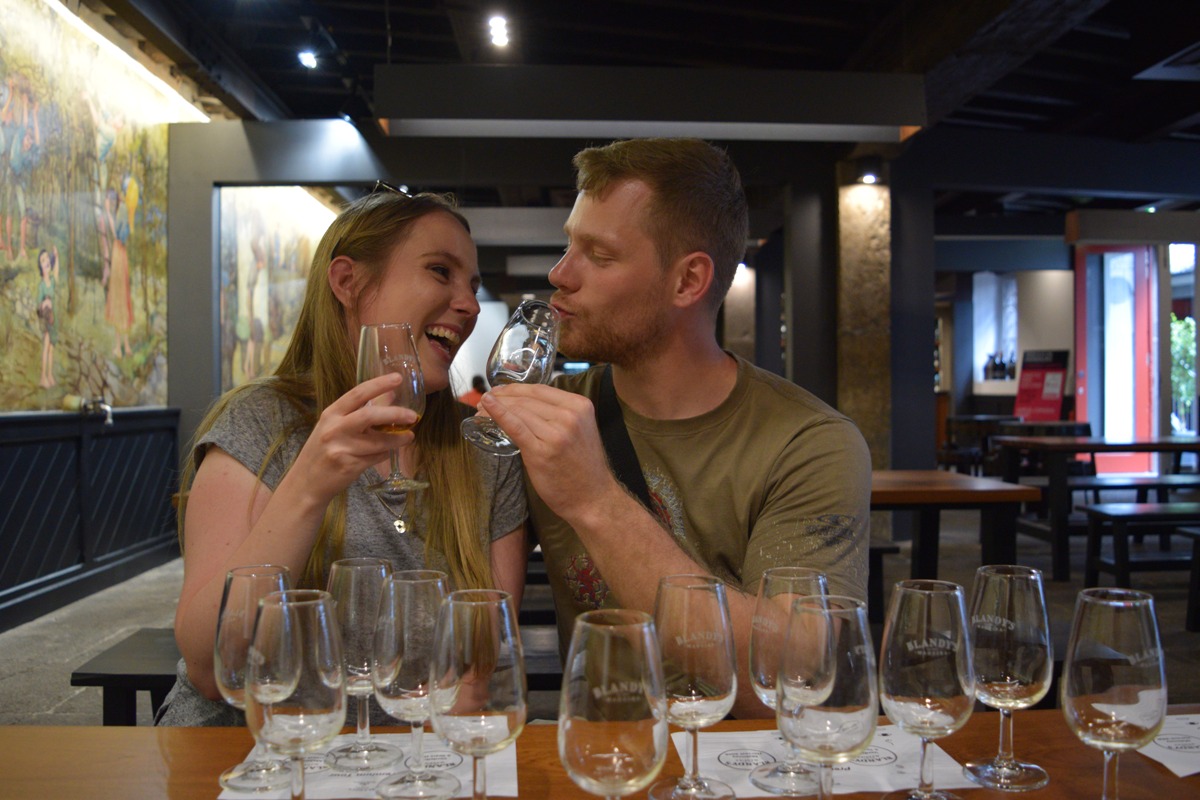 TIP: Do not buy anything big on the market – everything is overpriced and if you choose lemon passion fruit, for example, you'll be paying a lot. You can still try it, but I suggest buying something like strawberry passion fruit, which is tiny, yet delicious and exotic.
On this day you can also go to Monte Palace Tropical Gardens. We parked in front of Botanical Gardens, bought our tickets and took a fantastic cable car ride to the sloping land of the Monte
TIP: Consider catching a cable ride to Monte from Funchal city centre. For all the options click here.
The Monte Palace Tropical Garden occupies an area of 70.000 square meters and houses a huge exotic plant's collection, coming from all over the world. Count on 2-3 hours for this one.
A lovely bonus included in your entry of €12.5 is a ticket for wine tasting.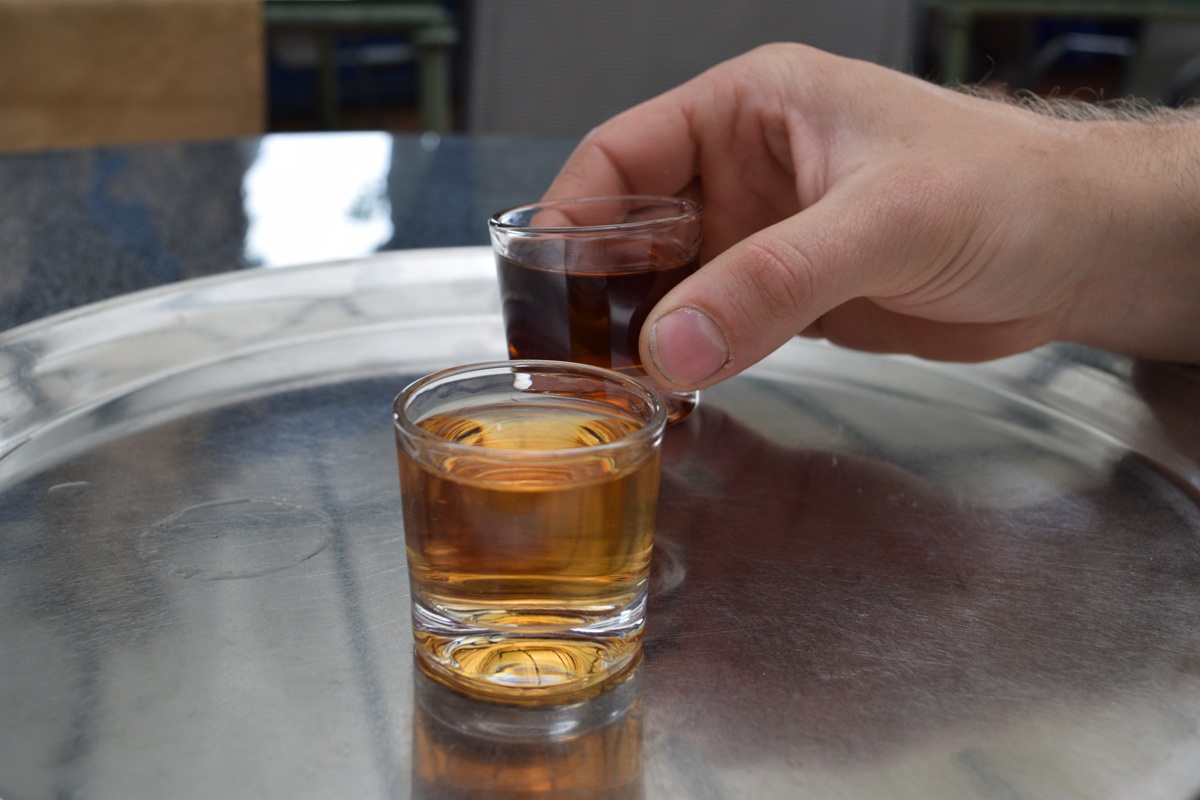 Once you're back down, you can also visit Madeira Botanical Garden, which is incredibly gorgeous.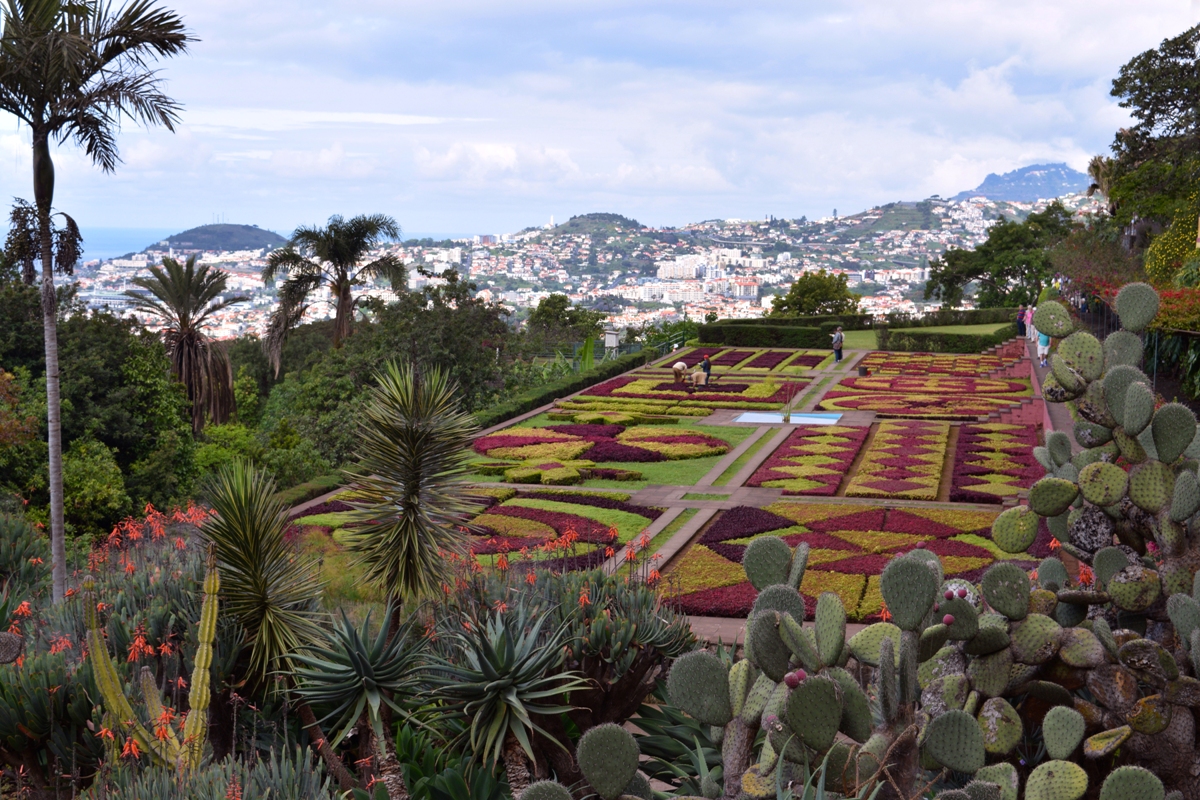 Just note that the garden closes quite early (in April 2017 that was at 5 pm).
Sleep in Funchal. We slept at a family-run guesthouse in Funchal, that was very cheap, but I wouldn't have recommended it on since I believe there are better places out there. If I was choosing again, I'd pick Casa da Praça.
DAY 6: PONTA DO FURADO
Check one of the most popular hiking trail on the island, leading to Ponta do Furado.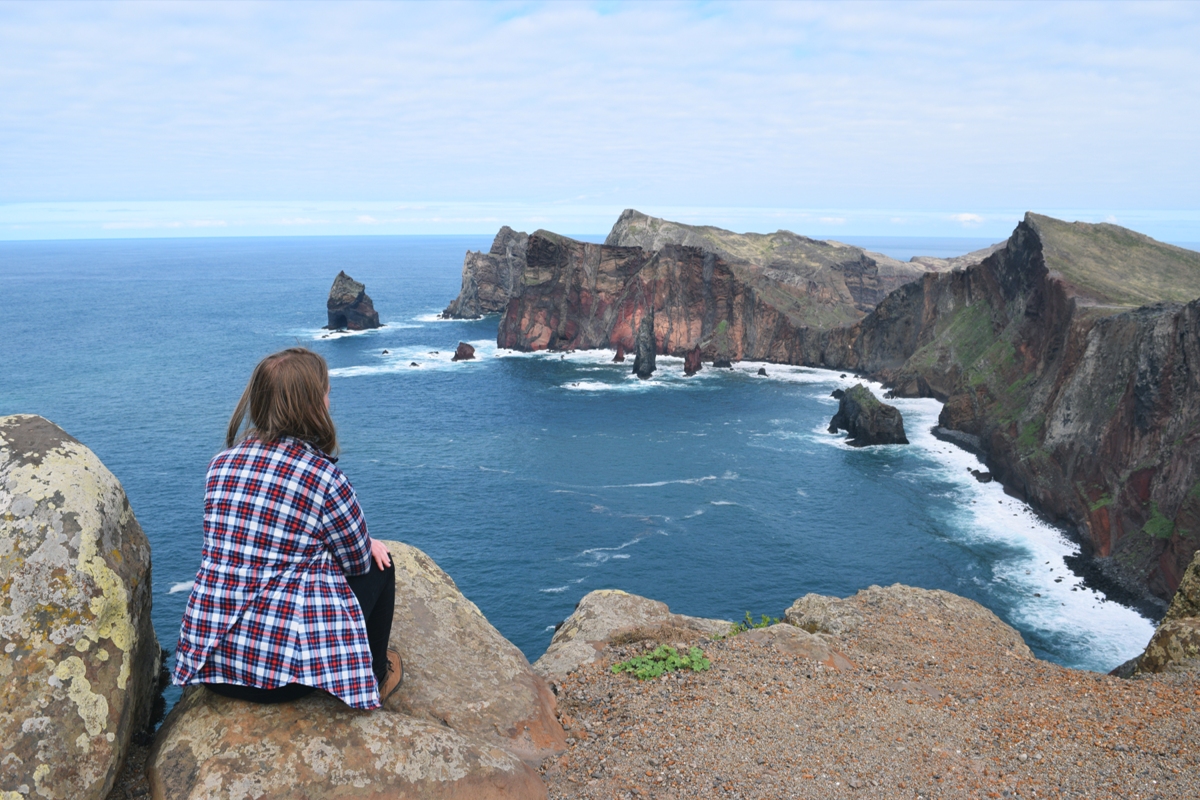 My expectations were high, but I wasn't disappointed… The views have been absolutely amazing! The trail was easy, but quite long, especially if you make thousands of stops in between. I'll let the picture speak for themselves.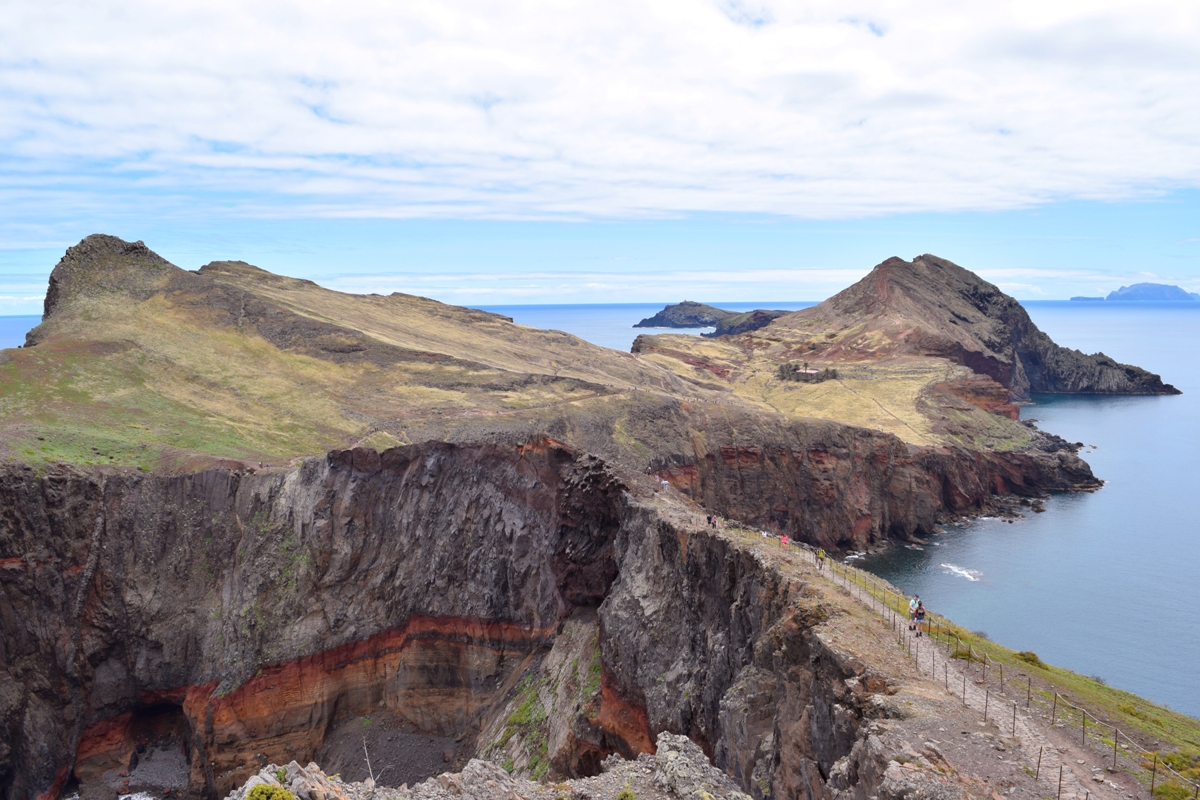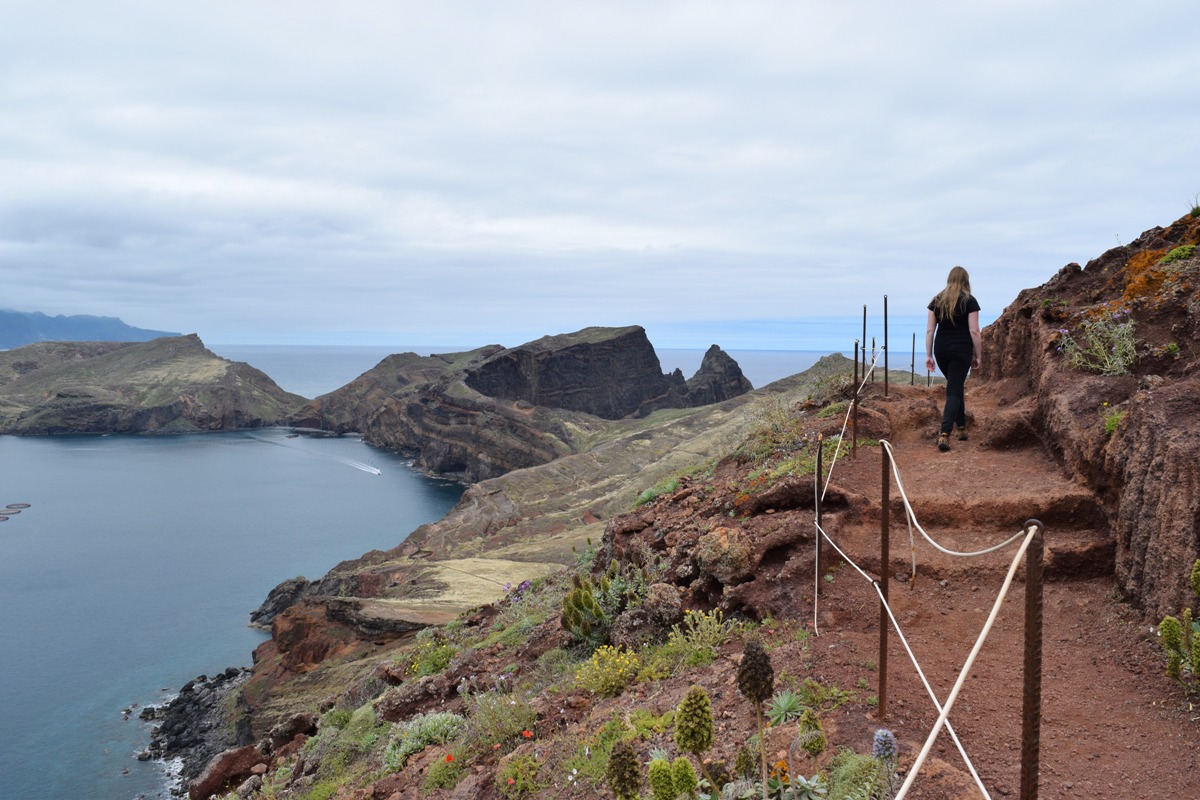 I also highly suggest visiting Ponta do Rosto, Ponta de São Lourenço, Ponta do Buraco, Ponta das Gaivotas (all will be on your way or really close by), Canical and last but not least, Machico.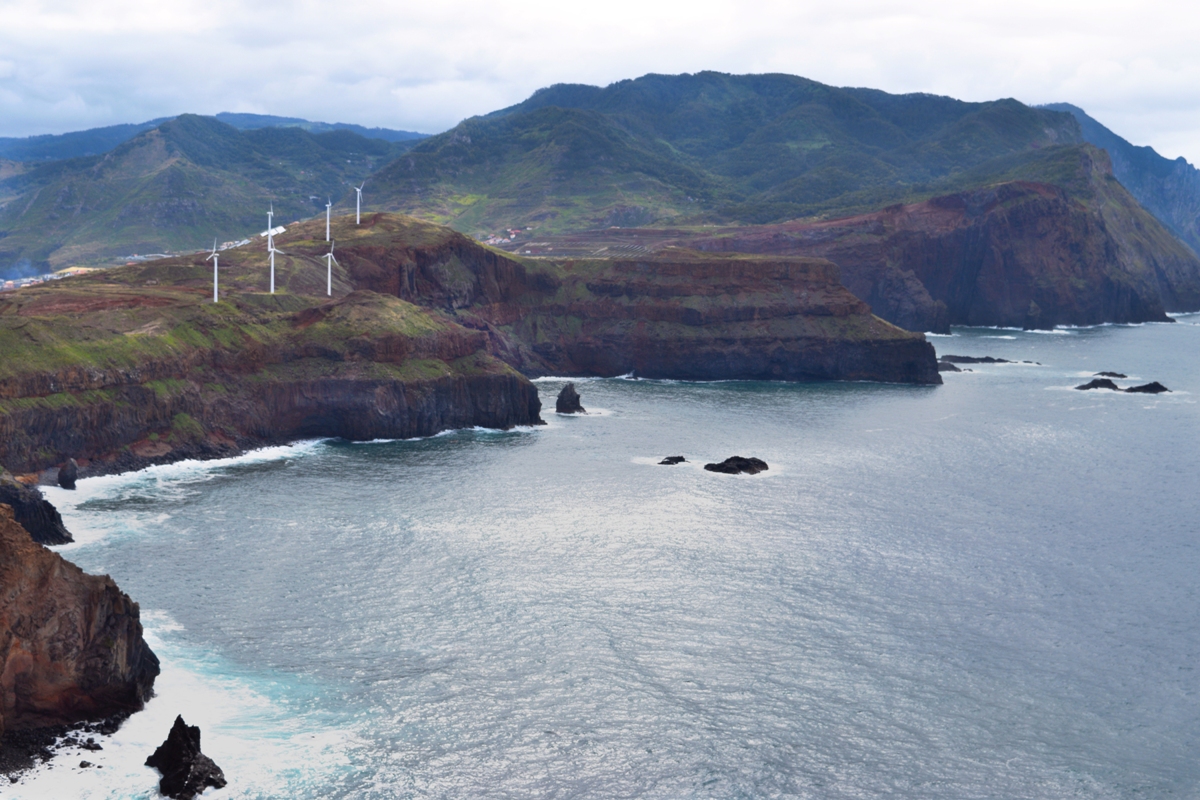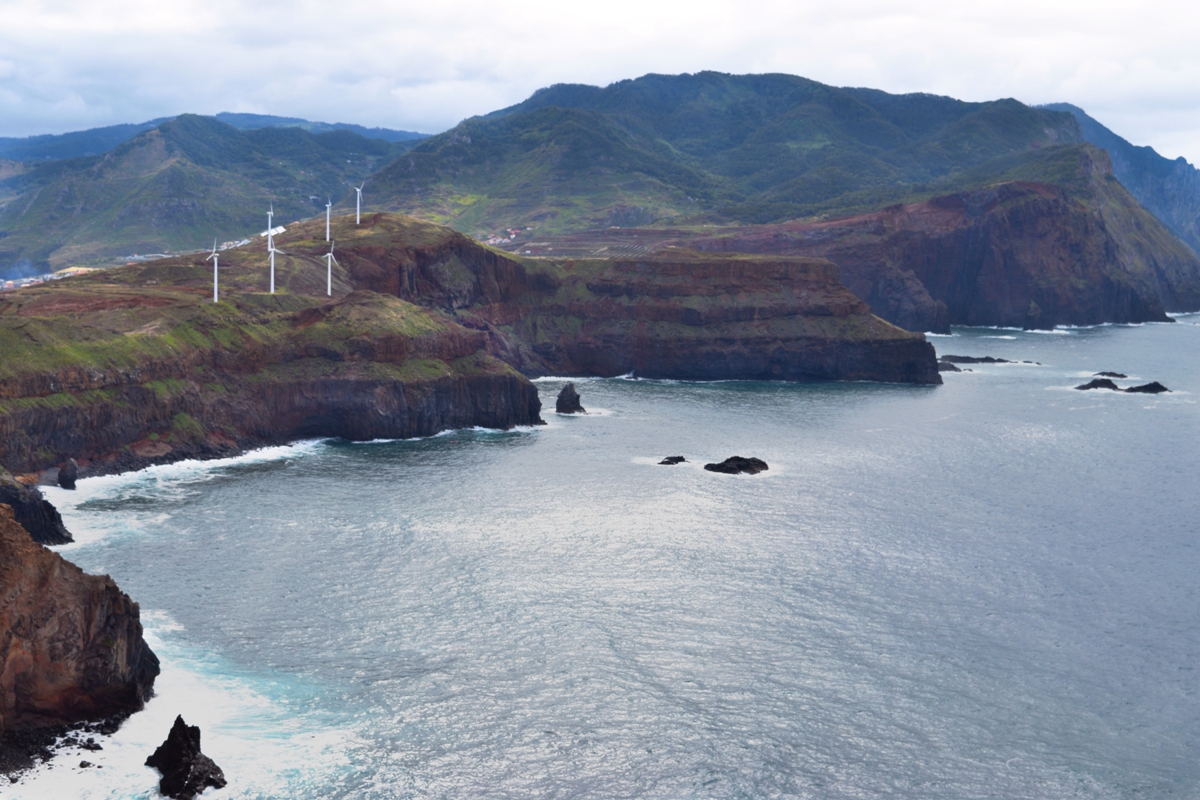 Sleep in Funchal.
DAY 7: FUNCHAL
Before flying back, there is one more place you need to pay a visit – Garajau. Observe the details on the statue of Christ-King and enjoy the last views of Madeira.
Have a safe flight back! If you have any further questions, feel free to post them below.
You can see my list of all expenses here.