PEPI Studios: Charming boutique hotel with a personal touch (Review)

Pepi Studios is a very-high rated boutique hotel in Crete's best kept secret – the town of Rethymnon. I was delighted to learn on arrival that it's built within a charming old Venetian building, the history of which goes to the early years of 20th century. From private school to material shop, 1985 was the year when the building was first transformed into small apartments. Later on, the hard-working family took over and opened a charming boutique hotel.
Location
Nested in the heart of Rethymnon, near shops, bars and restaurants, this place is perfect for any kind of a traveller – active or lazy. It's quiet so you can fully recover (we were so happy to get some rest!), yet close to clubs and the historical area of the city which means you can never be bored. A little further, although still just 10 minutes of walking, there's a beautiful sandy beach, where you might even spot a turtle if you're lucky enough.
Everything is right at your door step.
Rooms
We were staying in Room 11 (Standard Double Room) and fell in love with it the second we stepped through the door. It had everything we needed and more – a fully equipped kitchenette, electric kettle, hair-dryer, fridge and also a small dining table with a very welcoming platter of fruits to make us feel even more welcome. The room was located on the ground floor of the property, right next to a small swimming pool. Wifi was a bit weaker the further in the room you went because of the thick walls, however, it was working great at the dining table and outside.
The only difficulty for me throughout my entire stay was finding the desire to actually want to leave the property even though Rethymnon itself is extremely beautiful. Can you blame me after seeing what our room was like?
Food
Breakfast each morning was indeed a highlight and the staff in the informal Bistro 22 at the front side of the property will do their best to ensure you thoroughly enjoy it. Shortly: it's fresh, very filling (big portions!) and amazingly delicious. Can't praise this bistro enough! There's free wifi (working great even when busy) too.
My favorite part of the morning meal was Greek yoghurt with honey and walnuts.
One tip: come as early as you can. During peak time you may not have any problems finding an empty table, but as you can guess, the waiting time is a little bit longer because everyone is busy. At 8am the service's much more personalized.
Amenities
Wireless internet access available everywhere (even outside).
Small outdoor swimming pool with comfortable sun-beds.
Free safety deposit box in the room.
Air-conditioning (we didn't need it, but it's there).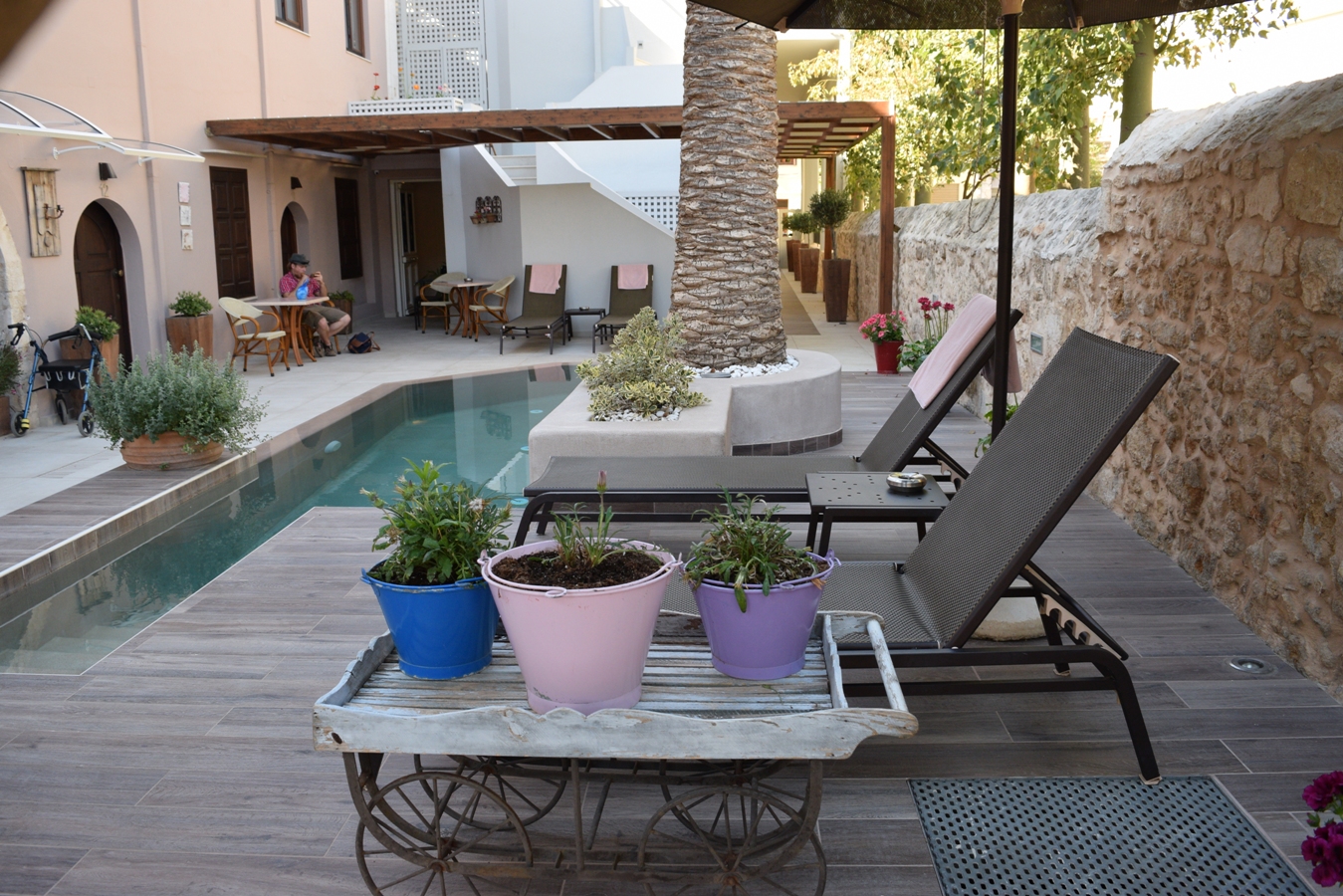 Costumer Service
Both Pepi Studios and Bistro 22 have only the best of the best. Everyone was caring, informative and most importantly, super helpful.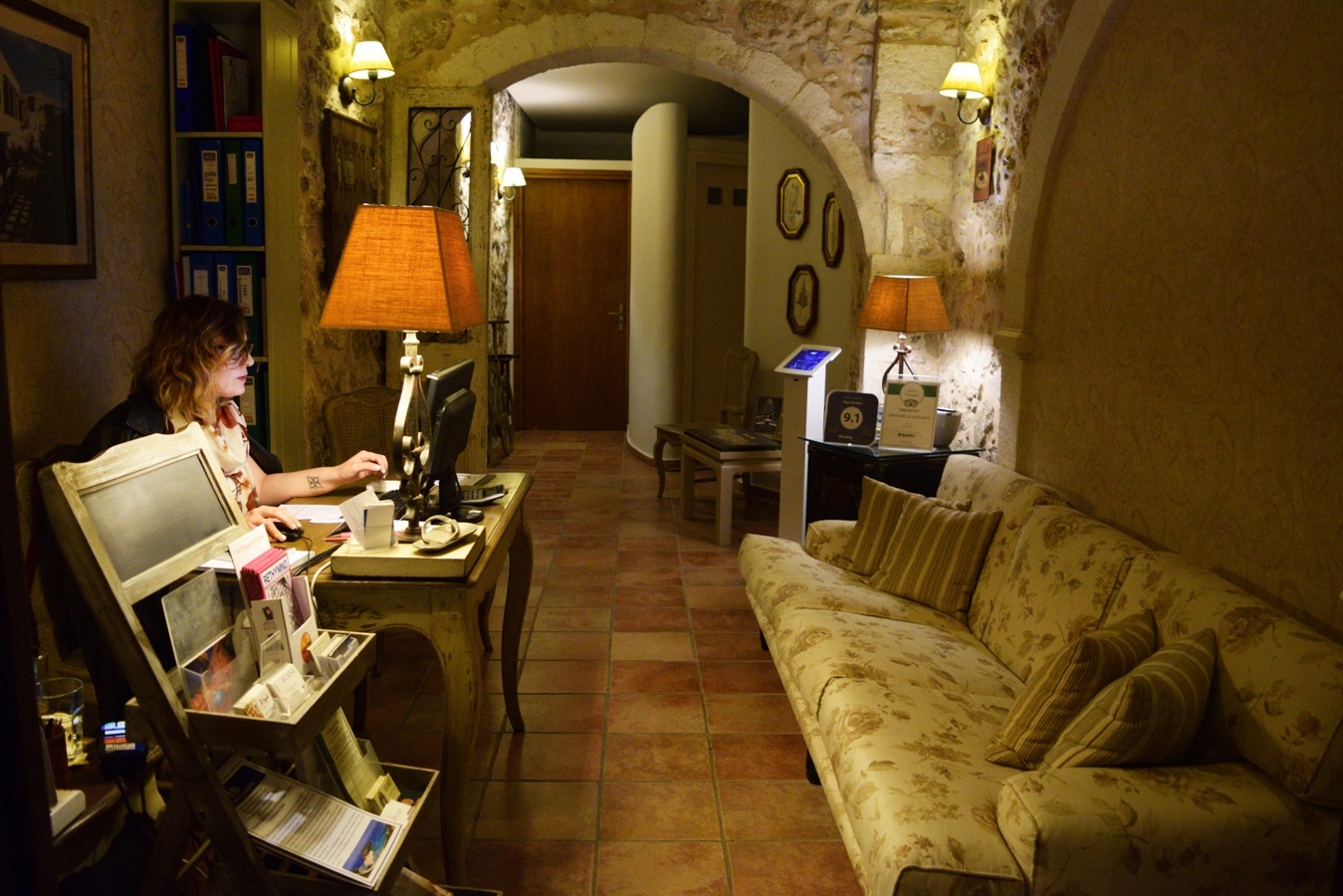 We arrived late and were very much looking forward to getting some rest, but the cheerfulness of the receptionist made us forget that. She welcomed us with a big smile, offering to help with anything we needed.
Tour of Pepi Studios
More information can be found on their informative website. Book your room here.
Our two night stay at PEPI Studios was complimentary but all opinions are our own.