First Time in NYC: What Not to Do
As one of the world's most visited cities, New York City (NYC) remains an irresistible draw. Often overwhelming, it's full of surprises at every turn. Here are some advices that will help first time visitors keep a cool head and avoid common pitfalls while discovering the best of what this magnetic metropolis has to offer.
1. Do NOT overplan your trip
We took 10 full days to see everything – and by everything I mean all tourist attractions (Empire State Building etc.) and those less known places. I had a list of all things we must see, however more things were added while there, some were skipped and we never knew more day a day in advance what we were going to do (weather in October can be unpredictable). The main rule was to do 3 things per day – sounds reasonable, right? Not so much. There were days when we did one thing and then those when we had to do five.
2. Do NOT buy every attraction separately
Get CityPASS and save tons (by the way, I'm not sponsored). Just a little under $80, to be specific.
3. Do NOT skip Staten Island Ferry
It's free, just avoid rush hour trips because the ferries are packed. Not a good time to take a leisurely ride. We caught one around 4pm and it was great. A different way to see iconic Manhattan and Jersey city skyline.

4. Do NOT come to Empire State Building or Top of the Rock less than one hour before sunset
This is something I knew. Of course, there are going to be big queues because we all have the same idea. Sunsets are beautiful, that's the fact. Yet when we first intended to capture the city from the bird's view, we were standing in front of Top of the Rock 30 minutes before the sunset. Out of breath, like we just completed the marathon. What happened? I wanted a sandwich at Melt Shop (delicious!), which is a part of the reason we were running late (literally). Seeing the queue, we immediately left the building. Luckily all of that was happening on Friday, so we could get a free entrance at MoMA. Back to the point, the following day we picked our tickets in the morning and returned back at 5pm, in time to snap some photos of NYC in daylight and find a perfect spot to watch the sunset.
5. Do NOT go to MoMA on Friday Night
Or DO go if you're not a big fan of art but wish to see what the fuss is about. Every Friday evening they give out unlimited amount of free tickets between 4pm and 8pm. I loved the museum, it might have been my favorite one in the City. Jure wouldn't agree with me, though. The crowd didn't really bother me either, but I've talked to some artists about it and they all advised us not to do it that way. If you want to take your time to observe each structure, it can be annoying being in the same room with tens of others – it's loud too.
6. Do NOT stay anywhere but on Manhattan for most of your stay
Our first three night were spent in Brooklyn. I have no regrets about that – perfect starting point for exploring Downtown Manhattan and how unpredictable – Brooklyn area. We felt safe, our host was great and the area was nice. BUT! Everything was far. New York City is HUGE. If this is your first time going there, you probably have so many plans, just like I did. It took us around one hour to get to Midtown – and we were walking fast to the metro station. Although I wouldn't recommended the lodge we had at Upper West Side, I still think paying more per night was worth it. It was nice experiencing both.
7. Do NOT limit yourself just to Manhattan
NYC is not Manhattan only. Go around, explore! New York has five boroughs and you're doing yourself a disservice if you're overlooking Brooklyn, Queens, Staten Island, and the Bronx. All of them are unique.
8. Do NOT forget to check how much sugar is in your toast
I don't buy toasts often, but they last and well, you can put peanut butter on them. We were trying different brands, first without really looking at the label. It's all unhealthy anyway, right? One day we picked a package with 5g of sugar per 100g and it was awfully sweet. Never again.
9. Do NOT eat at McDonald's only
This goes for any chain you've tried before. A stranger on the street recommended us Lucky Burger – amazing! Don't miss out on all those smaller places just because McDonald's is everywhere.
10. Do NOT plan less than a day for Central Park
This is something I wish someone told me. We did walk through three times, but that was it. Funny, I still feel like we saw nothing, which is impossible considering one of our walks was from Columbus Circle (59th Street) to 107th Street (don't ask…). If we had additional day, we'd probably spend it picnicking and reading in Central Park.
11. Do NOT buy from street cars
Most of the time they don't even have prices displayed. Jure wanted to try hot dog there, so we stopped at one of the cars on our first day. The hot dogs have no taste, but what's even more interesting: the prices can increase in 10 seconds.
12. Do NOT miss the smaller museums
Many smaller museums offer free entrance. Do some research and make it your goal to see at least one of them. Bigger ones are overwhelming.
13. Do NOT go to the High Line at weekend
The High Line is definitely worth a visit as part of a trip to New York. It gives unique view of parts of the City and is a lovely way to relax. However, do not go there at weekend, it's busier than Times Square. It won't feel relaxing at all, believe me.
14. Do NOT leave Statue of Liberty + Ellis Island ferry for the afternoon
Last ferry from mainland is at 5pm. Those visitors will only be able to visit one island – that's such a shame because both of them are interesting and educational too. Anyway, this is an attraction you plan for the morning. It'll take you at least (!) 5 hours to see both islands.
Related: How to pay under $50 for your broadway tickets
No time now? Pin for later.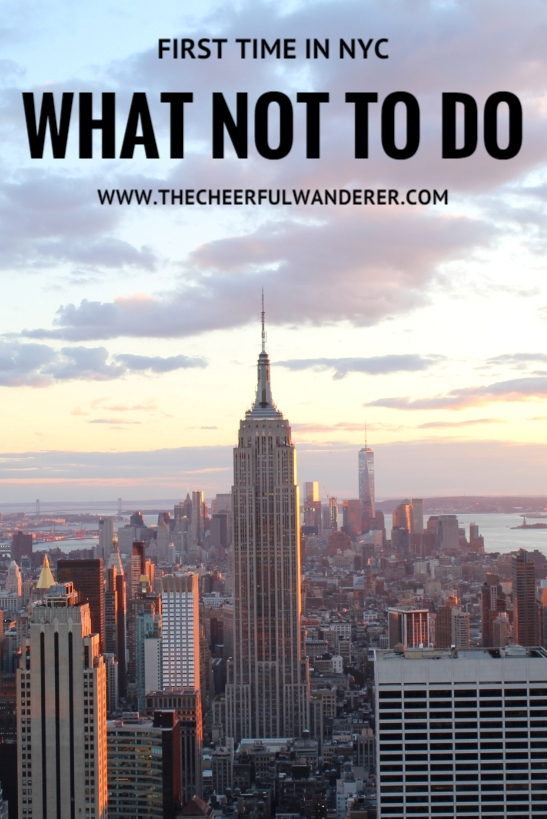 Do you have any other advice for the first-timers? Share it in the comments below.