Five days at the heel of Italy
Puglia, the region in the heel of Italy's boot, offers you to escape from the crowds, but still enjoy authentic Italian cuisine (it doesn't get any better than that!) and historic buildings. My recommendation would be to book your accommodation in Bari, the capital city of the region, because it has great national and international connections.
We landed at Bari Karol Wojtyła Airport late afternoon and took a local bus to the city (the bus tickets can be bought at the book store on the first floor of the airport, and yes, you must buy them in advance). After a long unplanned walk around the city, we found our way to the hotel we booked. It was a short walk away from the bus and train station, so the location was perfect. Same foes for the price; I usually pay as much for 3 nights at hostels in 10-bed dorm. Free breakfast, which was served every day, was another wonderful addition.
On our first full day there, we did some sightseeing and enjoyed the sun. Luck was on our side; the weather was absolutely beautiful the whole time. The path also led us to Swabian Castle. The Norman-Hohenstaufen Castle, widely known as the Castello Svevo (Swabian Castle), was built by Roger II of Sicily around 1131. Destroyed in 1156, it was rebuilt by Frederick II of Hohenstaufen. The castle now serves as a gallery for a variety of temporary exhibitions in the city. It was a big disappointment, though. Half of the area was closed due to building work, which is something nobody tells you when you pay for your ticket. Apart from a short film and a small museum, you couldn't see much. Make sure you walk through the old part of the city, it's magnificent! If you're looking for a list of attractions – visit one of the tourist offices (one is on Piazza Moro, in front of the railway station, and the other in the city at Via Giuseppe Sangiorgi) and take a lovely free map, which is very helpful, when wandering around.
The following day we took a train to Alberobello. I fell in love with that city when planning the whole trip (as much as it was planned). It's a small town, about one hour away (by train) from Bari. Alberobello has only about 11 000 inhabitants and is famous for its unique prehistoric trulli buildings. The trulli are made of roughly worked limestone boulders collected from neighbouring fields. Characteristically, they feature pyramidal, domed or conical roofs built up of corbelled limestone slabs. You can read more about that on Unesco website or watch a very short documentary here.
The center of Alberobello is very attractive with many terraces. That's where the biggest and the main square and the town hall are. Not that far from the square, there's the Basilica. This beautiful church was designed by the architect Antonio Curri.

If you walk up the hill behind the church, you can find a nice souvenir store, where the owner kindly explains how people once lived in trulli buildings.
The other side of the town (pictured above) is much more touristic (although you should keep in mind the whole town is very small and touristic, but I still think it can be divided into two parts). Maybe I should also point out that if you come off-season, in November for example, there's a high chance you'll only see around 20 other tourists, it's far from being crowded. At this part, many of the buildings were converted into souvenir stores, restaurants, and hotel rooms. At the Valley of Trulli, how this zone often gets called, there are roughly over 1500 trulli. My favourite were the ones with whitewashed symbols on top. They include a cross (Christian symbol), a cross on a heart pierced by an arrow (representing Santa Maria Addolorata, i.e. Our Lady of Sorrows), a circle divided into four quarters with the letters S,C,S,D in them (for Sanctus Christus and Sanctus Dominus according to one source, but more likely the initials of Santo Cosma and Santo Damiano, the two saints the local basilica is dedicated to) and more.
The only shock was the fact everything is closed in the afternoon. You can't order a pizza until 7pm. Or go to a supermarket til 5pm. If I remember correctly, they take a break from noon til 5pm. So it's good to be prepared for that and buy your food in advance.
Before heading back home, there was one more town I wanted to visit. Trani. A train there takes about 30 minutes. This white stone town is lively and simply charming. Compared to Alberobello, it's much louder and there's a lot of traffic, but you can easily escape the chaos in lovely parks. I truly enjoyed Villa Communale, an amazing public garden with a turtle pond and fountain, aviary, and bandstand. Also, taking a walk along the harbour wall felt so great, I could have snapped hundreds of photos there (probably did); so many photo opportunities. And listen to that: they have the castle at the edge of the sea!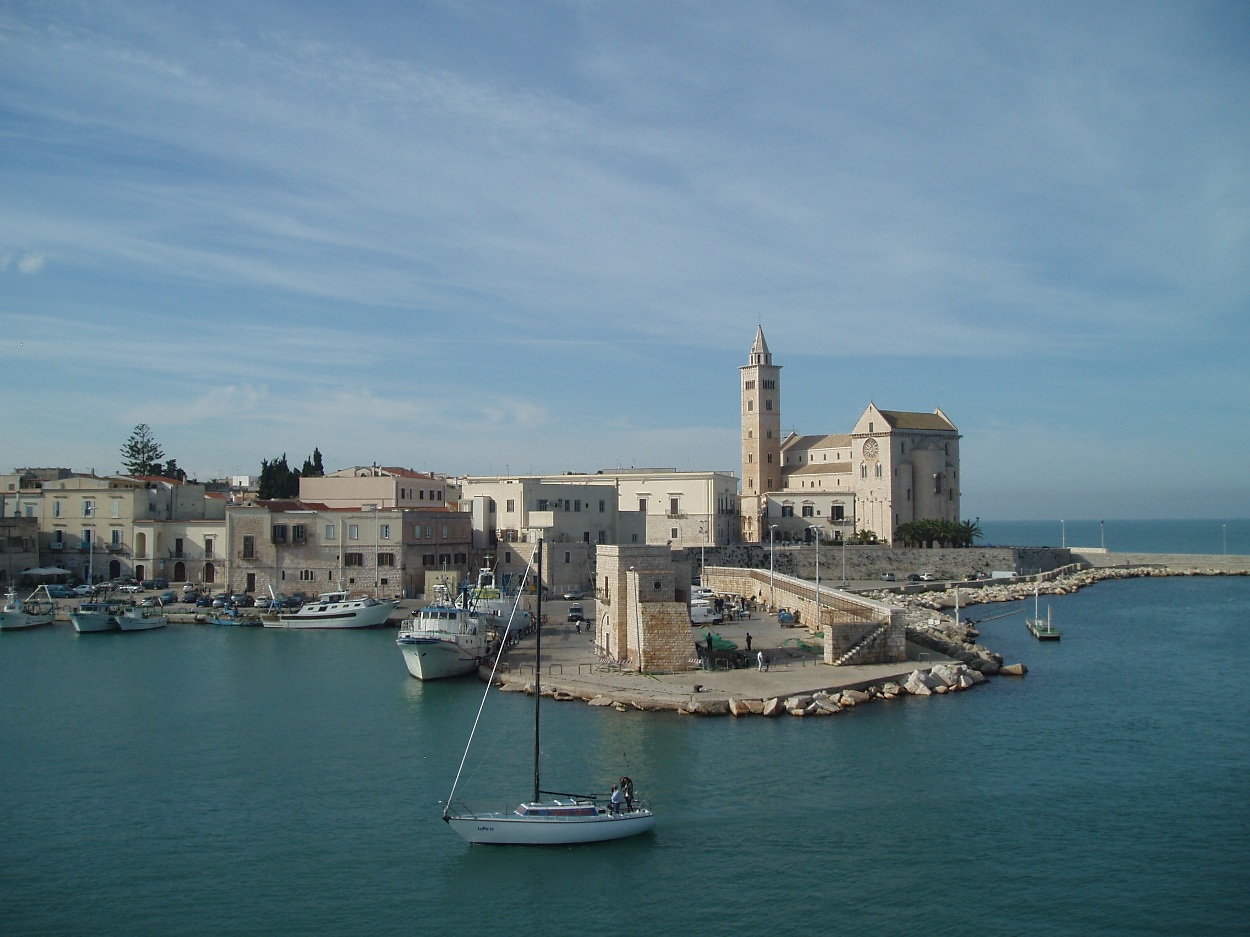 One more thing I'd like to point out – if you've never travelled in Italy by train, you may not know this – you must get your ticket validated (ie. stamped at a little machine) before boarding a train else you may be liable to a fine of up to 40 euros per person.
B&B Baristazionecentrale
+ cheap private rooms
+ friendly staff
+ daily breakfast (croissant, crackers, juice, a mini pie)
+ clean
+ quiet
+ 3 bathrooms for the whole floor
– no wifi
All photos were taken by me.