Český Krumlov: Picture-Perfect Small Town You Must See
Although less visited than capital cities, small towns often provide more authentic insights into local culture. Wandering down the cobblestoned streets with quick stops at unique shops and charming coffee shops could easily be listed as one of my favourite hobbies. No wonder why I got really excited when we made the decision to stop by Český Krumlov on our way to Prague, Czech Republic!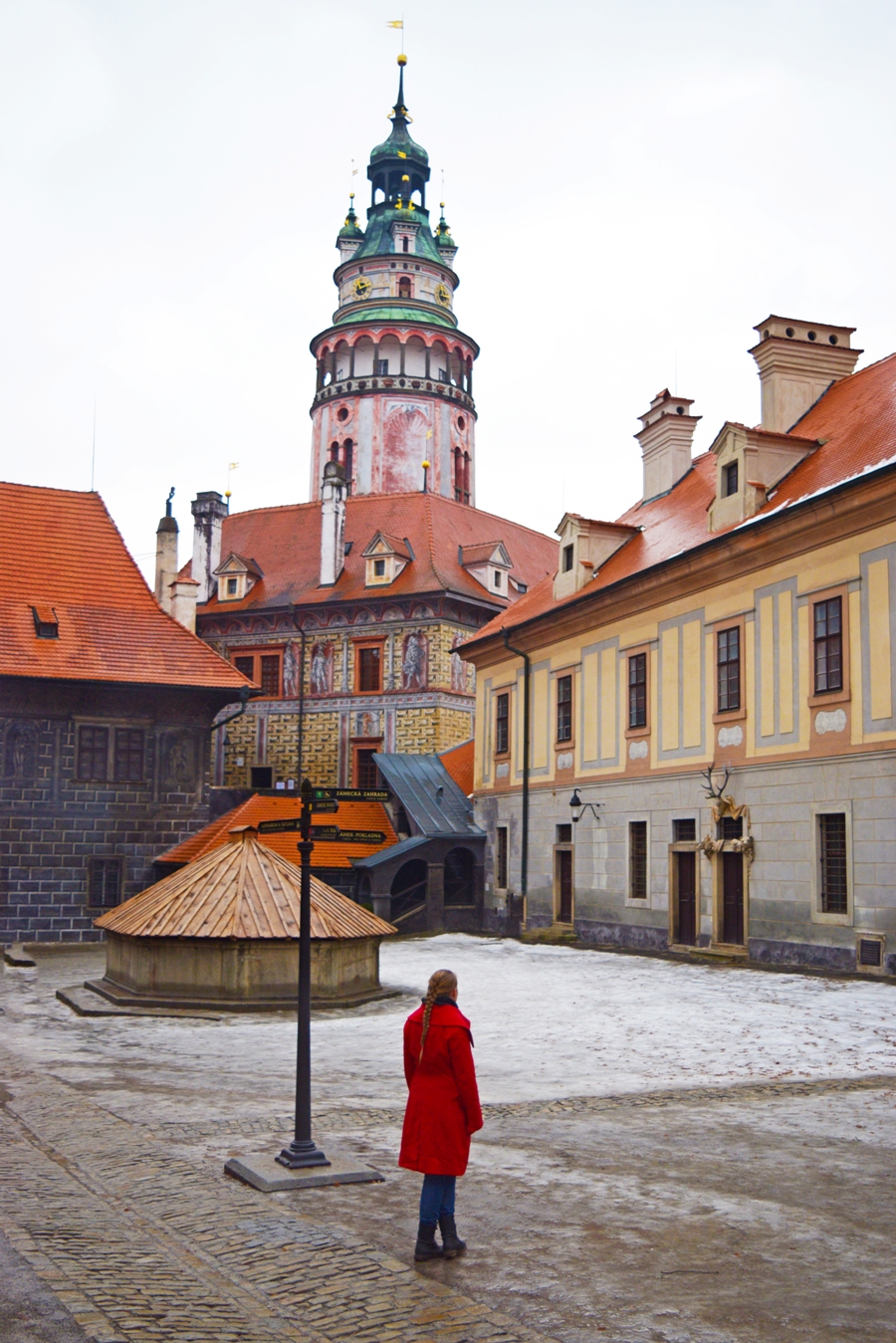 This Unesco World Heritage site with a stunning castle above the Vltava River was first mentioned in documents in 1253. The castle, built in Gothic style in the 13th century and rebuilt in the Renaissance style 3 centuries later, managed to stay intact all this time. How incredible is that?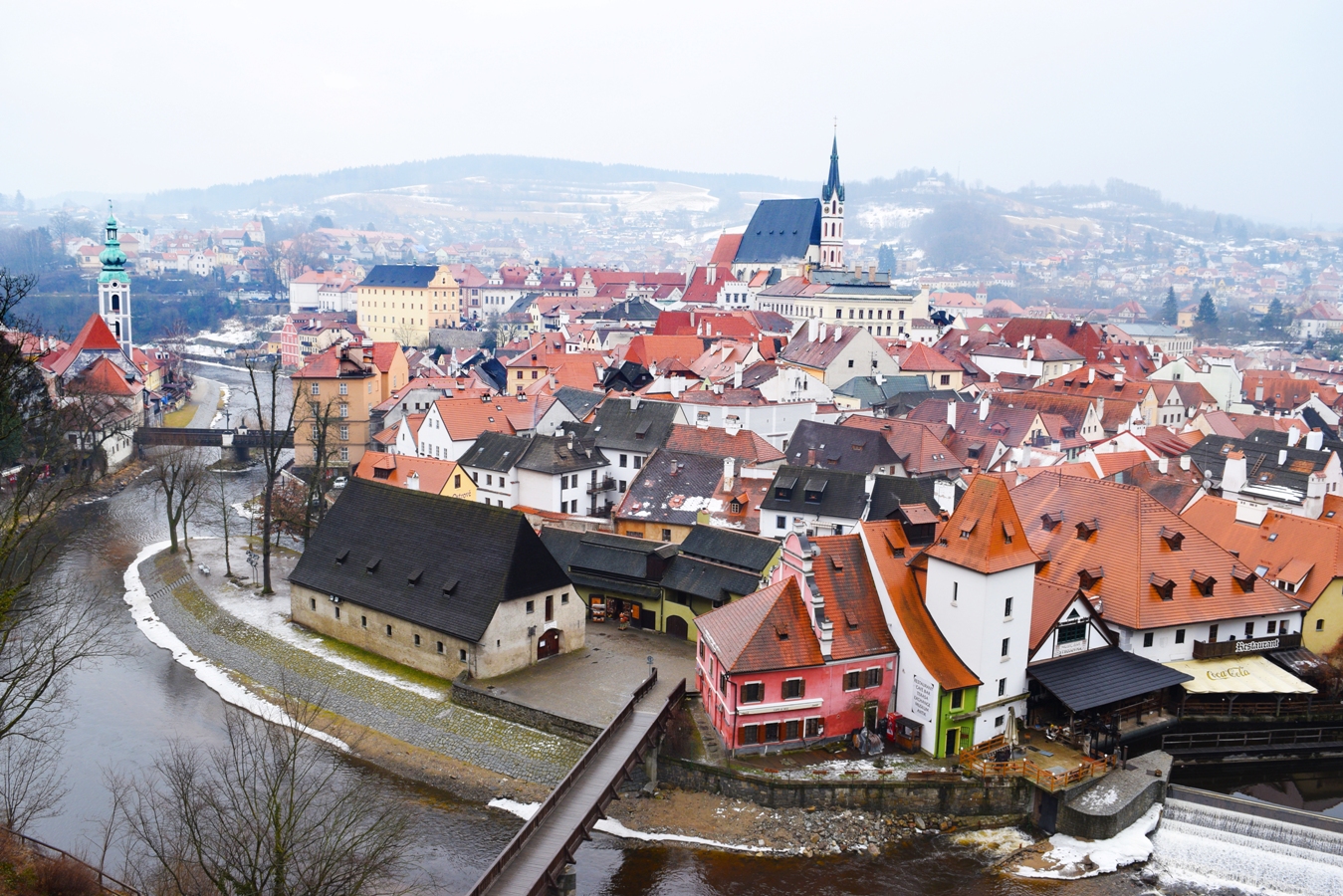 Even on Friday at 9 am Český Krumlov was flooded with tourists. From what I read, they have only noticed an increase in tourism in the last decade. One of the main reasons stated was so called virtual tourism, which isn't even surprising. I, for example, was one of the travellers, who first learnt about this fairyland online.
Very optimistically we only planned to spend there one or two hours and then continue the drive. Of course, we quickly lost a track of time. After getting the much-needed coffee latte, everyone was ready to do some walking. Or not. Not even 2 minutes later, we ran into a mini bakery, which was selling invitingly smelling trdelníks. For those of you who are not familiar with the sweet pastry: it's made from rolled dough that is wrapped around a stick, then grilled and topped with sugar, cinnamon and walnut mix. No convincing was needed – it was time for the second breakfast!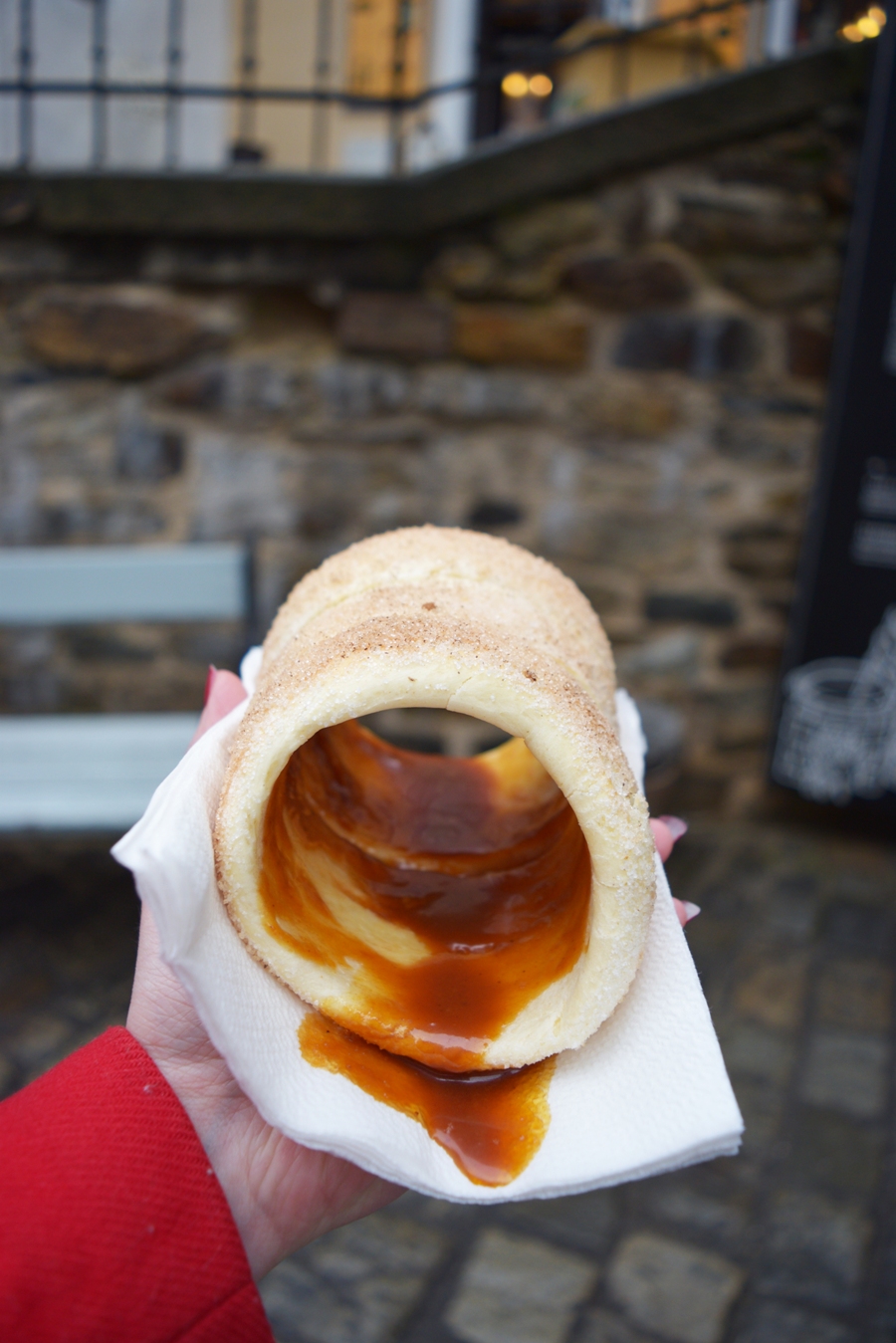 My personal favourite was the one that is topped with nuts. Mine, filled with caramel, was tasty, but incredibly hard to eat, especially if you're as clumsy as I am. I believe it took me around 5 minutes to spill the liquid caramel sauce all over my red coat. Typical. Another tip: don't walk when eating. I should have learnt by now but oh well …
In a slow, steady tempo we made it to the town's most popular attraction, the castle. The complex itself is a masterpiece and so well painted you MUST go there, even if the views are not your thing. However, if you're always seeking the highest peak to take some great photos, be ready to catch the most breath-taking view of the town and the river.
I'm already looking forward to my next visit. Český Krumlov is not getting more recognised each year for no reason. The streets are lined with souvenir shops, but this is not yet another place that has sold its soul to tourism. I noticed the owners are working hard to preserve the authenticity. I highly advise you to come and see yourself how creative they get.
Some tips
We parked our car at Chvalšinská 138, 381 01 Český Krumlov, Czech Republic. First 20 mins are free, after it's 35 CZK per hour.
If you want to get there using public transport, note the connections are limited in colder months. You better first take a look.
The busiest is in summer when it's also possible to camp along the Vltava river.
Trdelník costs 50 CZK (less than €2) here, which is a great deal. In Prague, it's much more pricey.
Maps of the city can be downloaded here.
When warmer, you can even do some rafting!
Do not wear heels – you'll regret it.
No time now? Pin for later.