Is Niagara Falls Adventure Pass worth buying?
In October 2015, me and my boyfriend spent a little less than 24 hours in Niagara Falls, Ontario. We arrived from Toronto and spent most of the day on Canadian side, which is better in terms of the view and activities offered, although I liked American side a lot more. It's greener and more park-like.
Since this was our first time there, we pre-ordered Niagara Falls Adventure Pass before even flying out of Europe, but you can also get it at the Welcome Center for the same price (adult $54.95, child (6-12 years) $36.95, kids 5 and under free). My recommendation would be to buy it there, so you have an option of changing your mind. You need to visit ticket booth anyway to redeem the online ticket.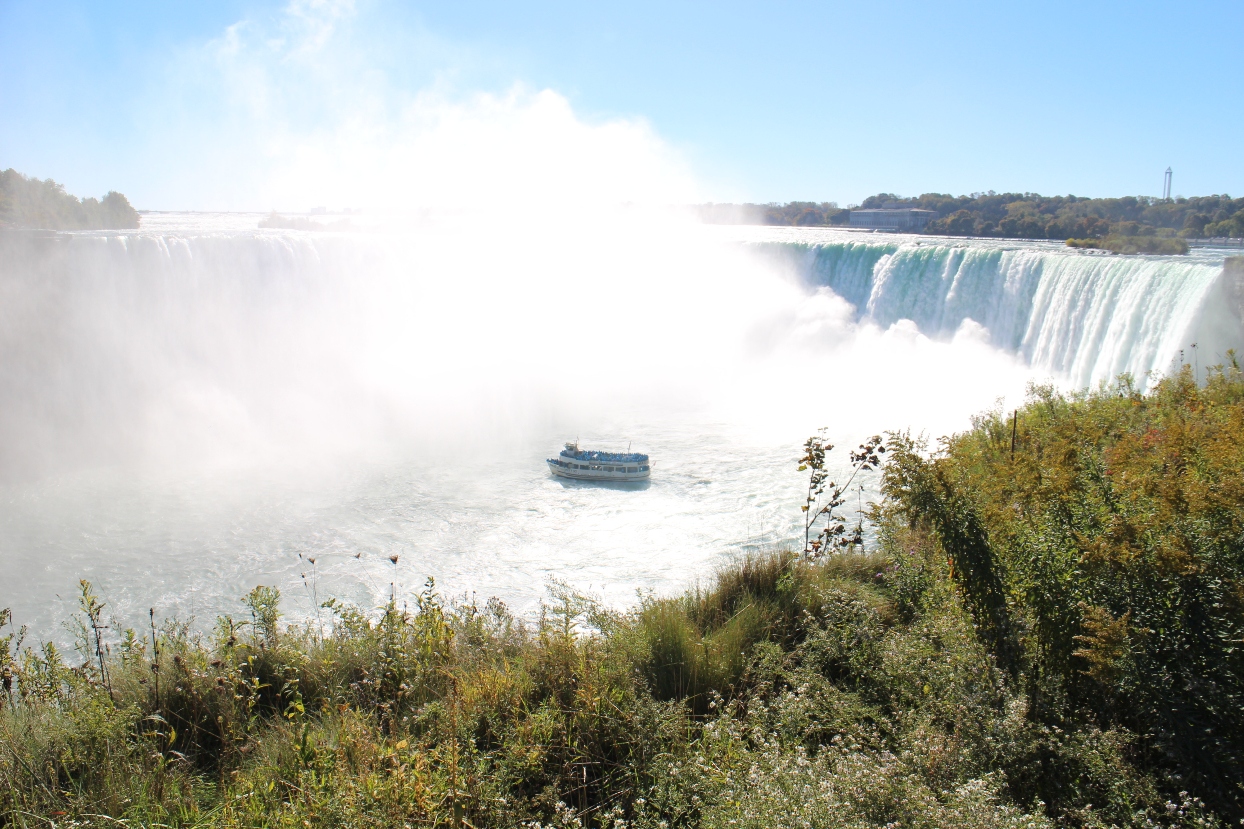 Attractions included
Journey Behind the Falls
Hornblower Niagara Cruises
Niagara's Fury
White Water Walk
+ 2 days of bus transportation throughout Niagara Falls

JOURNEY BEHIND THE FALLS
One word: spectacular. The noise level is extremely high though. If you want to get a closer look of the falls, this will get you up close and personal. You walk through tunnels and come out from behind the falls.
HORNBLOWER NIAGARA CRUISES
We did this one last, luckily. It seemed like I was taking a shower with all my clothes on. Provided poncho did nothing, thanks to the wind or the power of the falls. I'm not sure, all I know is that we were all completely wet. It's an amazing experience being that close to Canadian and American side of the falls – they're massive! On a nice sunny day you'll also be able to see rainbows up close.
NIAGARA'S FURY
The attraction is geared toward kids. It's seperated in two parts. When you enter, you'll be standing in a room. You can put your bag down and relax, no water is splashed here. After that, you'll be transfered to the theatre room equipped with a 360 screen. If you don't want to get wet, choose the middle row and walk almost to the end. Either way, you'll be given a poncho to keep you dry, before entering the room. 4D effects include fake snow, rainstorm and cold. The animated movie (10 minutes) is really cute! It presents history of the falls, starting with the creation. The animation is beautiful and it's not just kids, who enjoy watching it. I know I loved it. But if you're in hurry, skip this one.
WHITE WATER WALK
Many people we talked to, told us White Water Walk was their favorite activity to do in Niagara because of the beautiful scenary. We were not particularly impressed by it; Niagara river is like a little bit wider Soča river, Slovenian attraction well-known for its strong blue-green color. Don't get me wrong, the sheer volume of water and the sound are astounding. Worth the ticket, for sure. It's a lovely half hour walk next to rapids after the water has roared over the Niagara Falls. I loved it was educational, they had signs along the boardwalk telling you what to pay attention to, facts about the river and more. Another advantage is you do not get wet here.
Is it worth buying?
If you plan to do more than 2 activities, go for it. It was our first time there, so we tried to do as much as possible and we had a blast. In my opinion, all attractions are fun and enjoyable, especially if you're a first-timer, a family or a returning visitor who has only done a cruise before. I have no regrets, but if I was coming back, I'd only do Hornblower Niagara Cruises and maybe Journey Behind the Falls if the falls would be frozen.